Ikea displays its double standard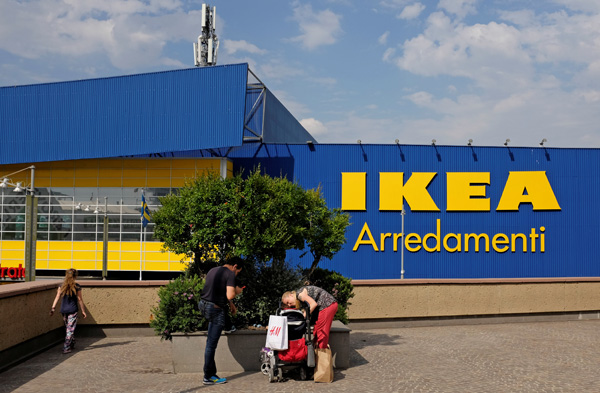 A family is seen in front of an Ikea shop in a mall in Rome, Italy, May 19, 2017.[Photo/Agencies]
Ikea should stop unequally treating Chinese consumers and extend its latest recall of defective chests of drawers to the Chinese market to show it attaches the same concern to the safety of Chinese consumers as it does to consumers in North America.
Due to its defective design, Ikea's MALM chests of drawers have caused the deaths of eight children over the past nearly 20 years and the home furnishings maker has announced several recalls and compensated the families of the victims and others who have been injured.
In response to criticism in China that its recalls are selective - the Swedish furniture giant recently announced it would recall 17.3 million chests of drawers from the North American market after this model caused the death of a child in May - Ikea has defended itself by saying this type of chests of drawers is defined as a safety risk in the US market, but it conforms to Chinese quality standards.
Since this type of product poses a safety threat to children in other countries, such as the United States, why are the same products not dangerous to children in China?
Such an argument shows the company's ingrained bias against the Chinese market and highlights the need for China to plug any policy loopholes that can be used by foreign manufacturers to sell stock they cannot sell in other countries.
Ikea's repeated refusal to recall the defective chests of drawers in China shows the need for the government to raise quality standards to prevent potentially dangerous designs from entering the market and raise people's awareness of design safety.