Xi's emphasis on deepening ties with neighbors a positive signal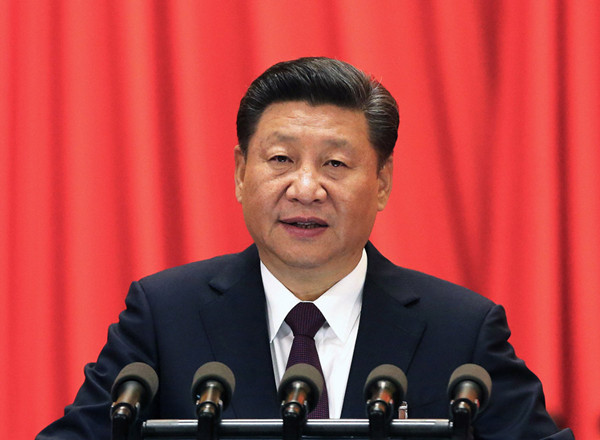 Xi Jinping delivers a report to the 19th CPC National Congress at the Great Hall of the People in Beijing, Oct 18, 2017. [Photo by Xu Jingxing/chinadaily.com.cn]
In the report presented to the 19th National Congress of the Communist Party of China by Xi Jinping on October 18, Xi has timely and appropriately emphasized on China's foreign policy to deepen relations with its neighboring countries.
Xi has made it clear that China is committed to cooperate with neighbors on development. His renewed emphasis has added momentum to the policy and it is expected that in the next five years many of China's neighbors will be on the high-speed track of development.
It was heartening to hear Xi say at the Great Hall of the People, where more than 3,000 journalists including 1,800-plus from abroad were present, that China will deepen relations with its neighbors in accordance with the principle of amity, sincerity, mutual benefit, and inclusiveness and the policy of forging friendship and partnership with its neighbors.
Moreover, Xi also sent a positive message to many least developed countries, including Nepal, by pledging to increase assistance to other developing countries. He further opened China's generous heart and readiness to share its development dividends with its neighbors and the least developed countries. This is something which should make all the least developed countries optimistic about their development aspirations as China, the second-largest economy in the world, pushes forward for globalization.
Xi also made it clear that China would oppose acts wherein strong countries impose their will on weaker ones and interfere in internal affairs.
No matter what stage of development it reaches, China will never seek hegemony or engage in expansion, Xi said in the report. China is known worldwide for its peaceful rise and non-interference and Xi has rightly emphasized on it while its global influence has grown along with its economic power.
China remains firm in pursuing an independent foreign policy of peace, he said.
Such foreign policy along with the major country diplomacy is bound to make all the developing countries feel secured and the developed ones assured as China is set to enter global center stage within a few decades.
In the past several years since Xi launched the Belt and Road Initiative to champion and cooperate in infrastructure development, connectivity, free trade, tourism, cultural exchanges and people-to-people bonds along the countries of the ancient Silk Road and maritime route, the Belt and Road Initiative has made many developing countries of Asia, Africa and Latin America hopeful of speedy development.
It is evidenced by the fact that over 100 countries, regions and international organizations have signed agreement with China. And given this, the emphasis that China will actively promote international cooperation through Belt and Road Initiative has proved China's consistency in its global development and cooperation policy. Such a policy consistency is of far-reaching importance at this time when Chinese socialism has entered into a new era.
With the rise in protectionism in some countries, Xi's stress on keeping China's doors open for trade and investment, multilateral trade agreements, free trade, making economic globalization more open, inclusive and balanced so that its benefits are shared by all has been able to rekindle hope in many developing nations.
If launching of the Belt and Road Initiative, strong support for economic globalization and free trade, climate change mitigation measures and global peace have all made Xi win global prominence, his emphasis on the same, including deepening relations with neighbors, and the measures to implement them in practice will change the face of the world for the betterment of most developing countries. This will ultimately make China shine more brightly in the global stage.
The author is sub-editor of The Rising Nepal.