It's vital to find the root cause of terrorism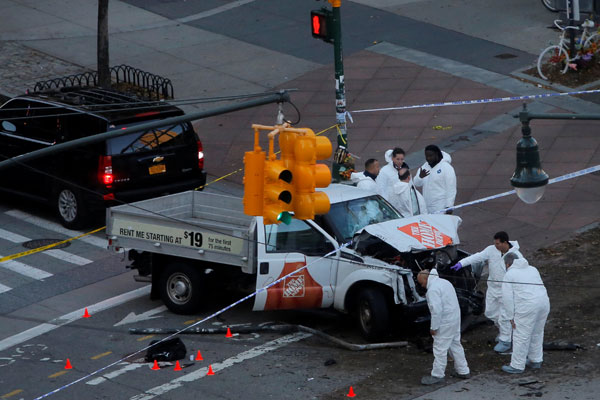 Police examine a rented truck used by a driver who fatally ran over eight people on a bicycle path on the West Side of Manhattan on Oct 31. [Photo/Agencies]
The attack in Lower Manhattan in New York City on Tuesday that killed eight people and injured at least 11 was a ruthless assault on innocent civilians and deserves the strongest condemnation. The suspect, 29-year-old Sayfullo Saipov, driving a pickup truck mowed people down on a bike lane along the Hudson River.
Police said Saipov, who entered the United States legally from Uzbekistan in 2010, believes in the Islamic State group's "ideology", and on being questioned by the investigators, he showed no remorse for the brutal attack and, instead, was almost boastful about it.
Americans have shown their courage by not giving in to the attack. The Halloween parade in Manhattan on Tuesday night went on as scheduled, with a large crowd in attendance. And there is no sign yet that the Sunday New York City Marathon will be cancelled or postponed.
However, some talking heads on US news channels have been saying the US should increase the vetting process of immigrants, even shut the door on people from certain countries. Some have revived the Muslim-phobia since Saipov shouted an Arabic slogan, after fleeing his truck and before being shot by police.
It might be too early to talk about the root cause of such terror attacks since many Americans are still in trauma. But without finding the real cause, it would be impossible to come up with the right and effective policies.
Far too often, US politicians have chosen the easy answer: They hate our way of life, our freedom, democracy and success. And that has not helped solve the problem, as terrorism has become an even greater threat to the US and many other countries.
What is surprising is that no one seems to think US domestic and foreign policies might have contributed to the increase in such terrorist attacks. For example, the Iraq and Afghanistan wars have caused countless civilian deaths and pushed the two countries into chaos. The rampant US drone strikes, from Pakistan and Libya to Yemen and Somalia, have resulted in many civilian casualties and have long been said to have helped terrorist groups such as the IS and al-Qaida to attract new recruits.
The torture of prisoners at Abu Ghraib in Iraq and the illegal detention of suspects at the at Guantanamo detention camp are examples of how the US disregards international laws despite constantly preaching to other countries to follow them.
For years, Pew Center surveys have shown low public favorability for the US in the Middle East and North Africa, reflecting the anti-American sentiments in regions where the US has flexed its muscles. The favorability for the US is only 15 percent in Jordan, 18 percent in Turkey and 27 percent in Tunisia, according to a Pew survey released in August this year.
Besides, some US domestic policies might also have alienated the Muslim community. Certain actions and rhetoric, whether from the government or just a talking head on TV, have reinforced the idea that the US is at war with the Muslim world.
Sarah Lyons-Padilla of Stanford University and Michele Gelfand of the University of Maryland conducted a study two years ago and found that integration of Muslim immigrants, rather than isolating them, is critical to fighting homegrown radicalization. They said anti-immigrant discourse is likely to fuel support for extremism rather than reducing it.
China and the US have deepened their counter-terrorism cooperation in recent years, but Washington still uses double standard when it comes to defining terrorism in other countries, even though the victims of terrorist attacks are innocent civilians.
The Tuesday attack in Manhattan is a tragedy. But fighting terrorism requires domestic and foreign policies to be formulated on sound analysis, not rhetoric that is only politically correct.
The author is deputy editor of China Daily USA. chenweihua@chinadailyusa.com