China's robotic revolution in full swing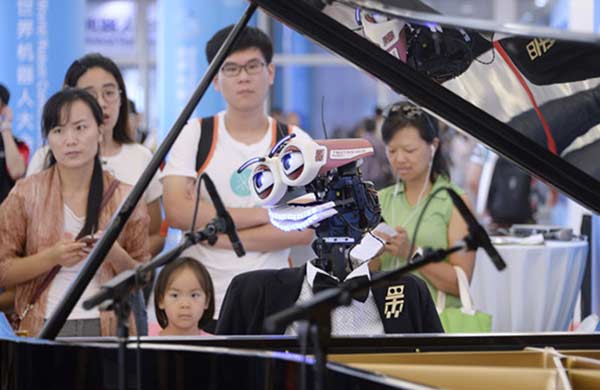 Visitors watch a robot play piano at the 2017 World Robot Conference in Beijing, Aug 24, 2017. [Photo/Xinhua]
When President Xi Jinping visited the Institute of Advanced Technology under University of Science and Technology of China in Heifei, Anhui province, on April 26, he was greeted by a human-like robot named "Jia Jia". "I am very happy to see you, dear President, I wish you happiness every day," said Jia Jia, who is known as "robot goddess" for her good looks. Surely, Jia jia's interaction with Xi has sent a strong signal to the world that China has acquired the mantle of leadership in the global robotic industry.
During the term of the 18th CPC Central Committee, the government under the presidency of Xi is vigorously advancing to become a great leader in the technology transformation and robotics transformation. In the last three to five years, the way the Chinese robot industry has prospered is astounding. The government and domestic companies are working together to achieve critical technological progress.
China is now the world's largest consumer of robots. Many Chinese robotic companies, including Foxconn Technology Group, Shanghai STEP Robotics Corporation, Efort Intelligent Equipment Co Ltd, Siasun Robot & Automation Co Ltd, Estun Automation Co Ltd, are actively developing robots with their own technological advantages. And China-made robots have also won international recognition.
Thanks to the government's concerted and unremitting efforts and incentives over the past three years, China is forging ahead with a great force in the field of robotic industry, known as "jewel in the crown of manufacturing". And this great force comes from the 13th Five-Year Plan (2016-2020), the Made in China 2025 program, Robotics Industry Development Plan and Three-Year Guidance for Internet Plus Artificial Intelligence Plan (2016-2018).
The government attaches great importance to the robotics industry and Artificial Intelligence 2.0. Xi called in a speech to the Chinese Academy of Sciences in 2014 for a "robot revolution'' in a nod to automation's vital role in raising productivity. Robots were first mentioned in the Government Work Report of 2014, in the context of China's aim to achieve "major breakthroughs in super computing, intelligent robots, super hybrid rice, and other key technologies".
China became the world's biggest market for industrial robots in 2013, surpassing Japan. In 2016, China manufactured 72,000 industrial robots, around a quarter of global output. According to a report released by the Chinese Institute of Electronics on August 23, 2017, it is estimated that more than 110,000 robots will be sold by China for industrial use in 2017. It is expected China's industrial robot market will reach $4.22 billion rs in 2017.
In the meantime, the value of China's service robot market will reach $1.32 billion this year, up 28 percent year-on-year, according to the report. Estimates by the International Federation of Robotics, suggest the installation of robots in China surged by 27 percent year-on-year in 2016, to 87,000 units. The figure is close to one-third of all global robot installations in that year. By 2019, the figure is expected to double to 160,000 units.
It is worth mentioning here that the 2017 World Robot Conference (WRC) ended on August 27, 2017, showcasing the great vitality of China's fast-emerging robotics industry. Surely, the prestigious international conference echoed China's national strategy of robotic and digitized manufacturing upgrades to catapult China to lead the world in artificial intelligence (AI) technology by 2025.
More than 300 artificial intelligent (AI) experts and representatives of over 150 Chinese and foreign robot enterprises gathered the five-day event to show off their latest cutting-edge achievements and products including industrial robots, special-purpose robots, service robots, artificial intelligence (AI), smart homes and more. From chatting with visitors, playing the piano and doing surgery, robots stole the hearts of the audience at the third edition of WRC.
On the other hand, the two-day fourth China Robot Summit, with the theme of "intelligence plus era and smart future", held from May 16 to 17 in Yuyao, East China's Zhejiang province, displayed a variety of artificial intelligence technologies and service robots. More than 1,500 experts attended the Fourth China Robot Summit to discuss a fully robotic future in manufacturing and industrial transformation and upgrading.
China launched the "Made in China 2025" strategy in 2015. The plan is to replenish China's manufacturing with high-end and low-energy technologies, highlighting the robotics industry. It's really encouraging that China very much wants to strengthen cooperation with other countries to improve research and speed up the industrialization of robot technology.
As Vice-Premier Zhang Gaoli noted in his keynote speech at the 2017 Boao Forum for Asia, "China will unswervingly persevere in its opening-up. China's gate is always open to the outside world". He reaffirmed, the Chinese government will further optimize the investment environment for foreign businesses. All domestic and foreign companies should be treated equally in terms of qualification licenses, standard settings, and government procurement, as well as enjoying preferential policies of "Made in China 2025".
In recent years, China has accelerated efforts to integrate artificial intelligence technologies into robots as the country aims to build a smarter, automated society by 2025. It should be noted here that on July 20, 2017, China's State Council unveiled the "Next Generation Artificial Intelligence Development Plan", which outlines China's aims to lead the world in AI. The plan will give funds to AI-related projects to pursue a first-mover advantage to become the premier global AI innovation center, pushing the domestic AI level to a more international approach challenging US dominance.
China plans to expand its artificial intelligence products market to over $15 billion by 2018 by speeding up the manufacturing of products like robots, home appliances and mobile phones as part of efforts to develop new technologies to upgrade the structure and performance of the real economy. Earlier this year, the Ministry of Science and Technology established a 2 billion yuan ($294 million) special fund for intelligent robot research and development, according to China Securities Journal.
China is extremely well-placed in the field of the robotics industry and AI research and development. Chinese people have caught up with new technologies to improve their way of life but at the same time it should bear in mind that mass adaptation of robots may steal medium-skilled workers' jobs or rapid robotization will take control of our humanity as legendary theoretical physicist Stephen Hawking said that AI "could spell the end of the human race". Or it may not happen. May be one day will come when it is impossible to imagine a life without AI technology. We must make machines our best partner, rather than letting them replace us. We should be cheerful rather than fearful about robotic machinery.

Rabi Sankar Bosu is secretary of New Horizon Radio Listeners' Club in West Bengal, India.