China intersects the traditional and modern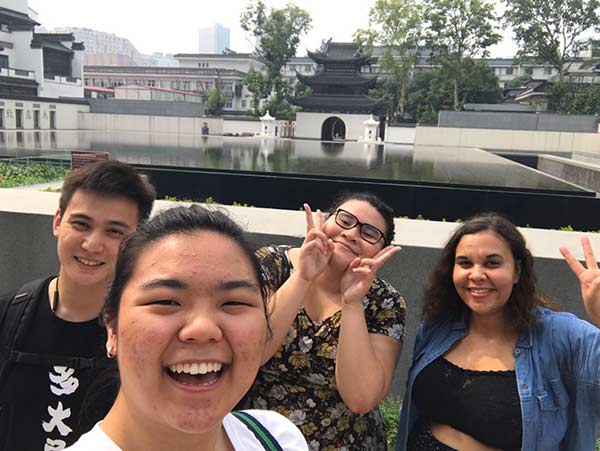 The author, second from right, poses with her classmates in front of the Imperial Examination Museum in Nanjing, Jiangsu. The museum has a reflecting pool, right in front of traditional buildings. Tall modern structures loom in the back. [Photo provided to chinadaily.com.cn]
Like pearls of flesh hidden under crimson lobster shells and long scavenger hunts for treasures secreted away in the streets of Beijing, China is a country that does not unfurl itself for you. The best ways I have experienced China have been by jumping in feet first, led by friends as we explore.
China is an intimate intertwining of the old and new. There are reminders on every corner of this country's long and illustrious history, of ancient dynasties and myriad schools of thought, between new skyscrapers that pierce the blue overhead. This patchwork of relics and modernity ushers China into an age where modern conveniences allow us to experience even more of Chinese culture.
One experience that remains full and bright in my mind expresses the dichotomy of China that I so adore. When I first arrived in China, a family friend was kind enough to show me around. It was in the later weeks of Chinese New Year at the time, and spring had only just begun to creep into the air. It is tradition in Nanjing, Jiangsu to fill the city with color and celebration and visit the Fuzi Miao — otherwise known as the Confucian temple.
This was my first true look at China. The Confucian temple was once a large testing site for all those who sought to become a government official under the emperor. To reach the imposing structure of stone and wood, we walked the ancient cobblestone paths where tens of thousands of people once gathered to test the boundaries of their knowledge. These brick streets were filled with shops and tiny restaurants selling traditional Nanjing fare.
As I ran my fingertips over old books, their colors muted from age and dust, the just-as-ancient shopkeeper watched me from her seat in the corner. She looked almost as old as the books herself, a relic of the past, as she smiled at me. I could not keep myself from browsing the collection of 'zines and novels, some of which were written in traditional characters. Enthralled by the old bookshop hidden away on consecrated land, I was surprised when I spotted two different QR codes taped to a piece of cardboard, neatly laminated and resting among the magazines.
I could not resist a smile at the sight of something so new in a place that was a monument to the past. Though I saw chain stores and other services use Alipay or WeChat Wallet, I did not realize at the time how prevalent they were. The ability to leave the house with nothing more than my cellphone is a freedom that I did not have in the United States, or in Singapore. The convenience of everything right in the palm of my hand not only changed the way I lived, but also the way I explored China.
Without carrying cash, the fear that comes with being a traveler in a foreign country is abated. With my phone, I am able to not only have unlimited access to my funds, but can also access different dictionaries should I need them, look up maps to help me navigate Beijing, and find tickets to museums, cultural events and exhibitions.
China is currently at the intersection of modernity and tradition. This narrative is not in the least bit contradictory. In fact, one side serves only to improve and heighten the other. Thanks to China's love affair with e-payment technologies, and the wide array of convenient services built up around it, one is free to focus on the experiences to be had in a country as large and rich with adventure as China.
The author is a fourth year English literature and Mandarin student from Hunter College in New York City. She is on her flagship program's capstone year in China, where she continues to study the Chinese language at Nanjing University.