Trump should stop issuing irresponsible trade threats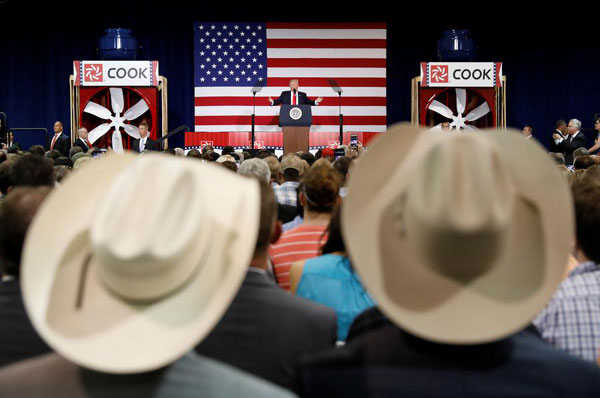 Supporters wearing cowboy hats listen as US President Donald Trump speaks about tax reform during a visit to Loren Cook Company in Springfield, Missouri, US, August 30, 2017. [Photo/Agencies]
After the Democratic People's Republic of Korea claimed to have tested a hydrogen bomb on Sunday, US President Donald Trump posted several tweets, including one declaring: "The United States is considering, in addition to other options, stopping all trade with any country doing business with North Korea."
If taken literally, Trump threatens to sever trade ties with not only China, which accounts for most of DPRK's foreign trade, but also with India, Germany, France, Russia, Mexico, Saudi Arabia, the Philippines, Thailand and dozens of other countries that trade with the DPRK.
The Dow Jones Industrial Average, the S&P 500 and Nasdaq all fell on Tuesday, by about 1 percent, on the first day of trading after the US Labor Day holiday. Part of the fall was attributed to the tensions on the Korean Peninsula. But if Wall Street had taken Trump's tweet seriously, the market would probably have crashed due to a looming trade war between the world's two largest economies.
China-US bilateral trade exceeded $520 billion last year (the official US figure is $648 billion), making them each other's largest trading partners. According to an Oxford Economics report in January commissioned by the US-China Business Council, US-China trade ties support some 2.6 million jobs in the US across a range of industries. About 150,000 US aviation jobs alone depend on the Chinese market, according to Ray Conner, vice-chairman of Boeing. And China is the US government's largest creditor, holding $1.147 trillion in US Treasuries, according to the US Treasury data in August.
On the other side, millions of Chinese jobs depend on trade with the US, which is by far China's largest export market.
Can the two countries be more interdependent?
So, a trade war, as threatened by Trump using his Twitter account which is followed by 37 million people, would be devastating to both countries. China has long stated that there is no winner in a trade war.
However, this is still an understatement. Given their outsized impact on the fragile global economy and the global value chain, especially in Asia, a US trade war with China would be a trade war with Asia, including countries such as the Republic of Korea, Japan and Australia which are major US allies.
Many US businesses will also be badly hurt because they are part of the supply chain, such as Apple, which marks the 10th anniversary of the iPhone this year.
Many economists say a China-US trade war would quickly set off global recession. I guess the International Monetary Fund, which I visited on Tuesday, is busy revising its World Economic Outlook and searching ways to deal with a global crisis. In its Regional Economic Outlook for Asia and the Pacific this year, the IMF said the region continues to be the leader of global growth.
It would not be an exaggeration to say a China-US trade war would be like dropping multiple hydrogen bombs on the global economy, which would, among other things, make Trump's campaign promise "Make America Great Again" mission impossible.
No wonder US trade experts have quickly dismissed Trump's tweets as an empty threat. It may well be true that Trump, author of The Art of the Deal, just wants to extract concessions from China using the DPRK as a ploy. But threatening a trade war that could have devastating global consequences is not something a US president should do.
Maybe Trump was just distracting the world because the real winner from the escalating tensions on the Korean Peninsula seems to be the US military industrial complex, as Trump tweeted on Tuesday: "I am allowing Japan & South Korea to buy a substantially increased amount of highly sophisticated military equipment from the United States."
To me, China's response of terming Trump's threat "unacceptable" and "unfair" is way too polite. As US president, Trump should simply refrain from issuing such irresponsible threats.
The author is deputy editor of China Daily USA. chenweihua@chinadailyusa.com