Xi's sincerity in poverty eradication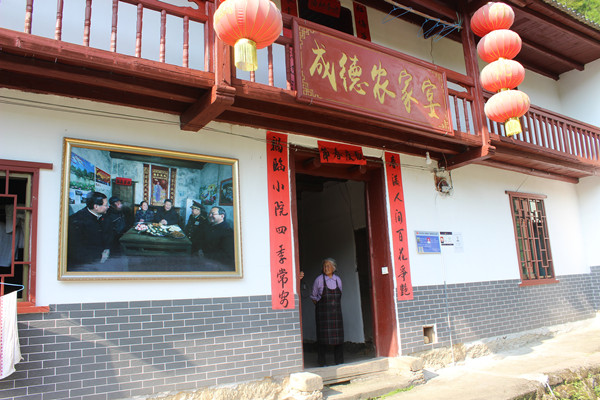 The house where Xi had snacks during his visit. [Photo:Nanda Lal Tiwari ]

Going by every day news reports in the media an impression is made- that Chinese President Xi Jinping is much focused on reform, opening up, innovation and supply side...with regard to domestic affairs while in relation to the international affairs he has gained global prominence for emphasizing on fairer and more equitable global governance, trade liberalization, practical as well as win-win cooperation and community of shared destiny. These are only a few terms that directly refer to President Xi. No doubt, his emphasis on open market and against protectionism in his address to the World Economic Forum in Davos of Switzerland last year, the Belt and Road Initiative he projected some four years ago and the way he involved some 60 countries in the first conference of the Belt and Road Forum for International Cooperation held in May this year in Beijing, his stance in solution to the Korean peninsula crisis and other conflict-hit regions in the world and the way he highlighted on giving voice to all the developing countries in the global governance issues in the recently held 9th BRICS Summit has injected a huge optimism around the world. And these all give an impression that the head of the state of the second largest economy has only the hot-spot economic and political policies of either global or national importance in his mind. This scribe was no exception to such an impression.

But a recent visit to a rural village in Jingangshan city of Jiangxi province of China changed my faulty or piecemeal impression about the Chines President.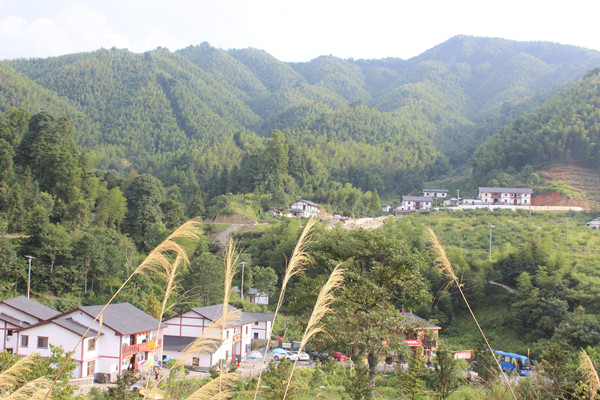 Shen Shan hamlet [Photo:Nanda Lal Tiwari ]
Shen Shan hamlet of Mao Ping village lies some 30 kilometers away from, and to the north of, Ciping town of Jingangshan city. The hamlet has 55 households and 331 people. Surrounded by forests, the settlement is situated in the middle of a high hill slope. Although the village looks like a settlement in the new clearing of the jungle, people have lived here for centuries. Many people in this village were under the poverty line until last year although poverty alleviation program was launched in the village and it was making a good progress.On a cold day, on February 2 last year, President Xi visited this impoverished village. In his three hours stay, he visited poor households, talking with the people about their life and challenges, eating the snacks the villagers provided and joining his hands in some of their everyday works such as beating of rice to make Da Gao, a small cake-sized sweet snack item made up of rice flour. Most probably the President reached there by road, at least 10 kilometers away in the mountainous narrow, one-way looking road from the provincial two-way road as no large area could be seen there for a helicopter to land.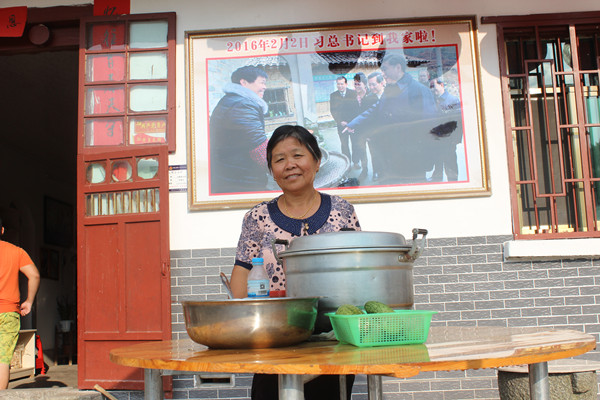 Peng Dong Lian, a shopkeeper in Shen Shang village, keeps the photo of the moment he talked with Xi.[Photo:Nanda Lal Tiwari ]
I asked a villager, Zuo Xiufu, 67, who had a chance to talk with his President Xi, about what he told President Xi during the meeting. He replied that he said to President Xi that he was happy and that villagers were working hard to get rid of poverty and the support of the government was good enough.
I looked around the village. Although it has all modern facilities such as electricity, mobile and internet and the road and running drinking water, it is a remote rural and poor village. And President Xi had spared time to come here and talk to people perhaps to gain first-hand knowledge of poverty alleviation program such as government support for education, health, interest-free loan, perhaps to experience the life of grass-roots rural people and perhaps to keep afresh his revolutionary spirit because Jingganshan is known for being the first base of the People's Liberation Army (PLA) during the initial revolutionary year of 1927.
After much reflection I concluded President Xi is determined, sincerely focused to eradicate poverty by 2020 in China. He attaches as much importance to the challenges of rural people in his country as much he does about the global issues. He has kept alive the revolutionary spirit, the struggle of the people and wants to live in the heart of the people, taking good care of them. And this conclusion I made there, I hope, has improved my impression of one of the most powerful leaders in the world, President Xi Jinping.
(As visitors started to flock to the village after Xi visited it and many of them started tourism related business, all the villagers have come out of poverty)