China BRICS Summit to spur emerging markets growth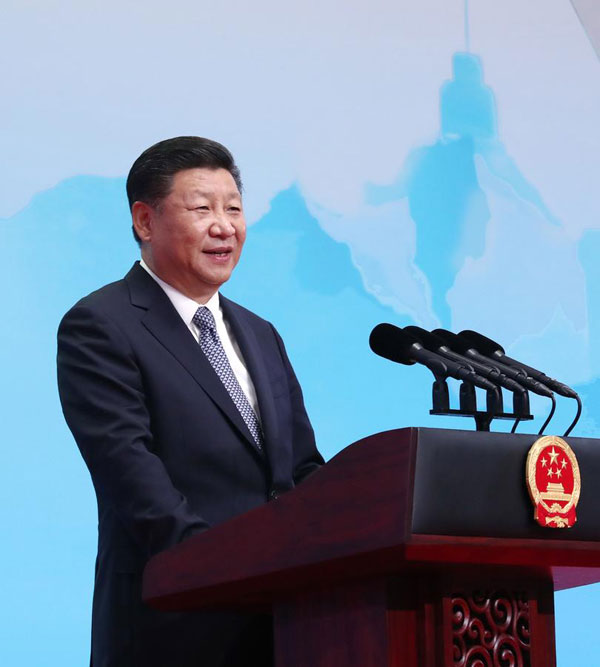 Chinese President Xi Jinping delivers a keynote speech at the opening ceremony of the BRICS Business Forum in Xiamen, Southeast China's Fujian province, Sept 3, 2017. [Photo/Xinhua]
The BRICS (Brazil, Russia, India, China and since 2010 South Africa) constitute the emerging powers in global governance, though so far none of the rising powers, has been in a rush to assert themselves by taking up the role of global leader, with its conflicting influences of attendant high financial costs, from the United States.
While China, as the leading member, has taken a long patient view of history, it has more than four decades, of unrelenting fortitude and perseverance, becoming a fast-paced country undergoing rapid change. As the host for the 2017 BRICS Summit, China has adopted a BRICS Plus model by inviting Egypt, Guinea, Tajikistan, Mexico and Thailand as guest countries. This is seen as deepening China's leadership and outreach to further shape future geopolitics particularly in the developing world.
Consequently, it now has the opportunity to provide leadership in BRICS, particularly as a result of its fast-paced environment and fast growing economic growth that has catapulted its meteoric unprecedented advance to become the world's second largest economy at over $12 trillion. The BRICS economies share some domestic and socio-economic challenges which must be addressed independent of their group activism. This must be done in order to accomplish set goals as a group in combating economic, social and political inequality in addition to corruption, improvements in health care and education, and human rights, to name a few.
There has therefore been a fundamental shift in global significance whereby in the future we will inevitably only have two dominant powers: the United States and China. As a result, as a member of BRICS, China dwarfs all the other combined emerging powers and is hence expected to play a larger role in shaping the BRICS's agenda that is commensurate with its elevated status, particularly in coordinating how the group collectively tackles key global issues such as climate change, poverty reduction, free trade, and building sustainable and effective domestic models that may be emulated by other developing countries. BRICS should therefore move closer to the professed goals of the developed world in propping up institutions of jurisprudence, human rights, fair trade, and other equitable forms of Western global setting of norms and standards.
The BRICS countries will be looking for prospective success and reciprocal influence in boosting trade between their developing economies, representing nearly half of the world's population. But while they face similar challenges in lifting large populations of the poor and protecting their environments, their economies have been slowing. In this context China will play a pivotal role because of the seriousness in takes BRICS as a driver of global leadership, particularly in the developing world. President Xi Jinping's One Belt and Road (B&R) project and his captivating speech in support of globalization at the World Trade Forum in Davos, Switzerland, are all aligned with enhancing partnership of unity and cooperation within BRICS as a model that should emulated by developing countries.
As China prepares for the 9th BRICS leaders' summit for three days from September 3 in Xiamen, it is manifestly apparent that China has ascended to perhaps the most significant global player on the world stage, straddling both the developed and developing world. It is therefore critical to the realization of BRICS' aspirations of their repeated call for the democratization of international governance and for greater equality in world politics is spearheaded by China working in close collaboration with fellow BRICS countries.
Some ideas such as the mooted BRICS bank are extremely attractive to the developing countries, particularly if they can help them in achieving sustainable development goals. In this respect, China can play an important role through BRICS in spearheading the rise of emerging powers and the beginning of shared development through a win-win globalization model. In this regard the BRICS Summit expects to progress toward a new level as a globally influential platform for South-South cooperation, among the emerging-market bloc, thereby leading to fairer and more rational international order. From the African perspective, this is the key challenge and opportunity for BRICS and particularly China, and it must firmly and decisively take up if they are to meet our sanguine expectations of uniform blending of aspirations for common prosperity. In this regard, the BRICS Plus model is an important step in the right direction by providing emerging countries with an opportunity to understudy their more developed counterparts.
The author is the Director of Centre for Strategy and Policy at Africa Policy Institute.