P&G eyes off China's booming baby care market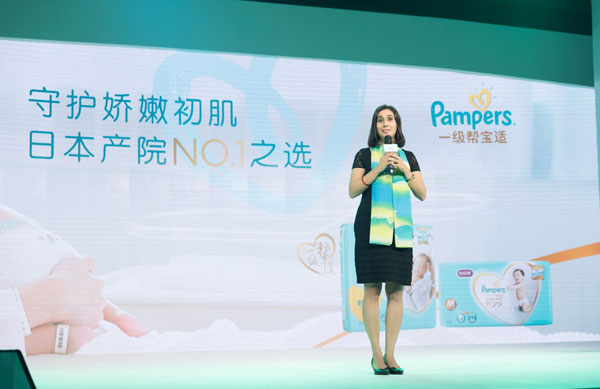 Kainaz Gazder, vice-president of baby care and brand function at P&G Greater China speaks at the launch ceremony of Pampers Ichiban in Beijing, China, August 8, 2017. [Photo provided to chinadaily.com.cn]
In the field of maternal and baby care products, the Chinese market is considered to be one of the the biggest in the world by multinational manufacturer Proctor & Gamble.
"I lived and worked in China in the mid 1990s. At that time, high-end or luxury products only had 2 percent of the market, but now it has expanded to over 50 percent. Now, China is one of the most high-end oriented markets in the world," P&G chief financial officer John Moeller said last year.
Based on the 2017 Report on Trends in Online Consumption for Chinese Moms and Babies published by 21-Century Economic Research Institute, 92 percent of Chinese users chose guaranteed-quality of authentic products as the No. 1 criteria for purchasing maternity and baby care products. Only 0.44 percent chose low price. As for brands, more than 60 percent preferred well-known brands with higher prices. Such polarized data shows that when it comes to maternity and baby care products, Chinese consumers have upgraded their consumption habits and transitioned from valuing good pricing to valuing quality and brand. As a result, demand in the high-end market is on track to skyrocket.
Pampers Ichiban is exactly the diaper such a market trend calls for. And the launch of such a high-end product is just the tip of the iceberg. Underneath the surface, and contributing to the technologies and aesthetics evident in every ventilation pore of the diaper, are a large number of R&D teams, scientists from different countries and regions around the world, years devoted to research and a plant in Akashi, Japan, that meticulously works on every product detail.
By importing Pampers Ichiban from Japan to China, P&G has apparently raised the Chinese market, at least in the maternity and baby care sector, to the same level as the Japanese market. In other words, P&G consider China as having one of the highest levels of demand in the world.
"Even in Japanese maternity hospitals where only the very best products are used for newborn babies, Pampers diaper boasts No. 1 coverage. And designed for babies' First Sensor Skin, this diaper has become an instant hit, two short months after its launch in the Japanese market, with celebrity parents on social media in both Japan and China," Kainaz Gazder, vice-president of baby care and brand function at P&G Greater China, said.
According to the 2015 White Book on the Development of Online Maternity and Baby Care Market in China published by iResearch, even for product categories with relatively high brand concentration like baby formula and diaper, online shoppers will not make purchasing decisions until they have read an average of 14 product pages per week. That's compared to highly fragmented markets such as children's clothing where online shoppers will not make purchasing decisions until they have read an average of 69 product pages the week leading up to the purchase.
This proves that the customers who were born in the internet era are not easily influenced by commercials. Instead, they make purchasing decisions based on their own judgment and consideration, and the products they like are products they can truly connect with.
Richer product associations, more professional product targeting, and searching for market resonance through concepts like "skin touch"-- all of these have empowered Pampers in precisely reaching young consumers against the backdrop of consumption habit upgrading. Pampers is returning to a path that is well-trodden for the company.