Military, civilians must unleash their joint power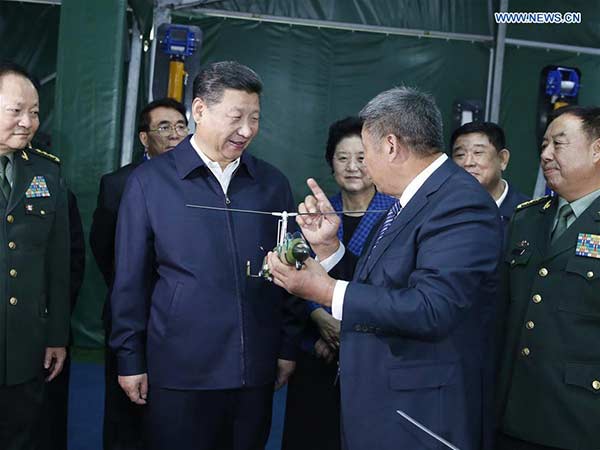 Chinese President Xi Jinping visits an exhibition on the high-technology achievements resulting from military and civilian cooperation in Beijing, capital of China, Oct 19, 2016. [Photo/Xinhua]

Wang Baokun [Photo/China Daily]
China has to make greater efforts to integrate military and civilian industries, as it will further boost the economy, strengthen the national defense sector, and mark an important achievement of the comprehensive reforms over the past five years, reiterated President Xi Jinping, who is also the chairman of the Central Military Commission.
The military-civilian integration is an inevitable choice and effective strategy for a rising power to cope with resource, growth and security issues. In March 2015, Xi said the military-civilian integration has been elevated to a national strategy. In essence, military and civilian integration signifies reasonable distribution of national resources between the economy and defense sector. In peacetime, a major part of the resources are invested in the economy for the benefit of the people, while during wars more resources are diverted to the defense sector.
The military's combat capability consists of personnel, weapons, facilities and equipment, logistical support, intelligence, a command system, military theories, technologies including information and communications technology, and funds. Some of these resources now come from civilian enterprises, reflecting the importance of military-civilian integration to cope with complicated national security issues and improve the military's combat capabilities.
In fact, military-civilian integration has made much progress. The 13th Five-Year Plan (2016-20) has laid out 100 major projects, and 40 of them are related to military-civilian integration. As a result, an increasing number of private enterprises are producing military products. By the end of 2015, private enterprises with the license to produce military weapons accounted for two-thirds of the total enterprises in the sector, and their accumulated registered capital was more than 50 trillion yuan ($7.4 trillion). Also, the number of integrated military-civilian industrial parks has increased from 28 in 2010 to 140 today.
Besides, emerging strategic industries have grown rapidly. Last year, industries such as new generation information technology, new energy and new materials grew at about 10 percent.
The transfer of intellectual property rights in defense-related science and technology fields has accelerated. Several industrial bases and parks, and incubators for military-civilian integration have been established in places such as Beijing, Tianjin and Shandong province. The Tianhe supercomputer and Beidou navigation systems are just two of the scientific achievements that can boost national defense as well as economic growth.
Still, there is a need to further promote integrated military-civilian development to cultivate talents, conduct scientific research, build facilities and develop equipment in order to strengthen national defense and bolster economic growth. For example, military talents can be cultivated in non-military colleges, and the military can create a favorable environment to attract more civilian talents. There is also a need to raise military personnel's salaries and material benefits.
Besides, military enterprises should implement deeper reforms by changing their management approach, reorganizing themselves, seeking mergers and acquisitions, and opening up some areas to the market. And private enterprises must seize the opportunity to participate in defense-related scientific research and production. Some regulations still prohibit private enterprises from entering certain military manufacturing fields. But these problems will be gradually solved, leading to the establishment of a new military product system headed by highly-competitive enterprises, including some private ones, which in turn will make weaponry purchase efficient, and encourage research into and application of new weapons.
Moreover, some military facilities and applications can be jointly built and shared by the defense forces and civilians-for instance, they can share airports, roads, ports, harbors and logistics. Also, concerted efforts must be made to promote the development of technologies, products, facilities and equipment that can be used by the military as well as civilians. For example, the Beidou navigation system can serve civilians and the military, and big aircraft can be used in both civil and military aviation.
To further promote military-civilian integration, the government should strengthen service planning and establish military-civilian innovation platforms. And military and private enterprises should better connect with each other in order to expedite the integration of military and civilian factors of production.
The author is a professor at the college of economics, Renmin University of China.