Focus on stabilizing growth and defusing major risks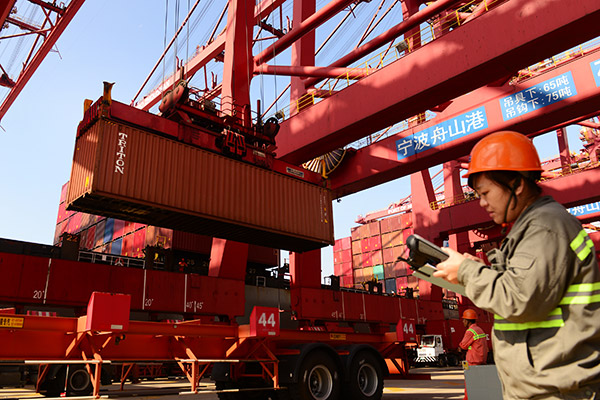 A worker monitors container operation at Zhoushan port in Ningbo, Zhejiang province. [Photo/China Daily]
The most recent data have shown that the momentum of the country's economic development is getting stronger, with the economic indicators for the first half of the year beating expectations and urban employment steadily improving. There has also been further progress in growth rebalancing, with the ratio of consumption to GDP increasing and the service sector's share in the economy continuing to grow.
But despite the good momentum in the first half of this year, the country's leaders are conscious of the need to strike a balance between stabilizing growth and the defusing of major risks, as signaled by the statement released after a meeting of the country's top leadership on Monday.
Although the fundamentals remain sound, prompting the International Monetary Fund to raise its forecast of the country's growth this year from 6.6 percent to 6.7 percent, it was recognized at a meeting of the Political Bureau of the Communist Party of China Central Committee presided over by General Secretary Xi Jinping, that this does not mean the economic and financial risks can be ignored.
The authorities need to remain focused so they do the right things at the right time, as Xi emphasized at a symposium on Friday.
Looking ahead, although policymakers will need to be prepared for a possible economic slowdown in the second half of this year as the cooling of the real estate market takes effect, the meeting has made it clear there will be no let up on reforms, and the continuity and consistency of policies will be maintained to push forward supply-side structural reform and guard against systemic financial risks.
This means measures will be introduced to further cut excess capacity and reduce inventory, as well as ease the corporate debt burden. And, as the statement released after Monday's meeting emphasized, the key to the success of these reforms is effectively handling "zombie enterprises", those unprofitable State-owned companies that are burdened with debt, mismanagement and/or overcapacity.
Other pressing tasks include controlling the local government debt problem, channeling more funds into the real economy and keeping a watchful eye on the financial market turbulences to ward off damaging repercussions.
Whether these tasks are successfully handled or not has significant implications for the country's economic transition and future development.
The commitment to reforms and the resolve to take a steadfast approach to economic liberalization demonstrated at the meeting should instill confidence that while maintaining stability is the priority, as Xi stressed, progress will continue to be pursued.