Not cool to be chilled at cost of environment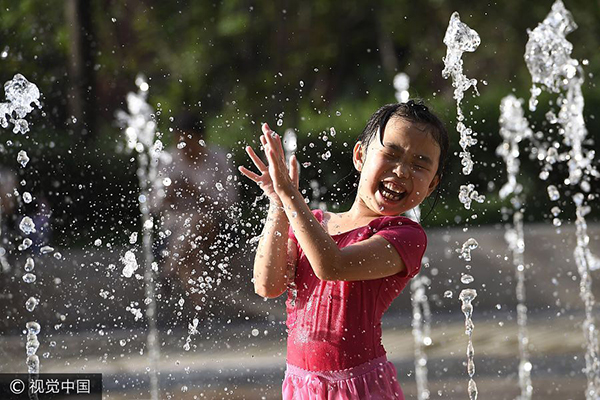 A girl plays in a fountain at a square in Taiyuan, Shanxi province, on July 8, 2017. Temperatures in some places in Shanxi reached 37 C. [Photo/VCG]
IN THE SUMMER OF 2007, the State Council, China's Cabinet, issued a notice demanding air-conditioned public buildings keep the indoor temperature not lower than 26 C in summer and not higher than 20 C in winter, and instructed that windows and doors be kept shut, so as to save energy and reduce emissions. Yet some shopping malls and department stores in Beijing keep their indoor temperature at such a low level, while keeping their doors open, that people shiver when they step inside. Beijing Youth Daily comments:
Since late last month when temperatures soared, electricity consumption in the capital has risen sharply because of the use of air conditioners.
The municipal government has called for companies and residents to save energy by keeping their indoor temperature at around 26 to 28 C, which is a comfortable and healthy temperature range.
The power consumption of air conditioners increases 7 to 10 percent for each degree cooler they are set, and about 80 percent of the electricity in China is generated by burning coal, which remains a primary source of greenhouse gases and pollution, despite the measures adopted by power plants to reduce them.
The shopping malls and stores are obviously violating the instructions of the State Council's notice and ignoring the municipal government's appeal, but neither has any legally binding force, which is why they have largely been ignored.
Although their hefty power bills may not bother the building owners given their substantial business revenues, the damage done to the environment as a result of their excessive consumption is against the public's interests and goes against people's efforts to build an environmentally friendly society.