Guizhou invites tourists to beat the heat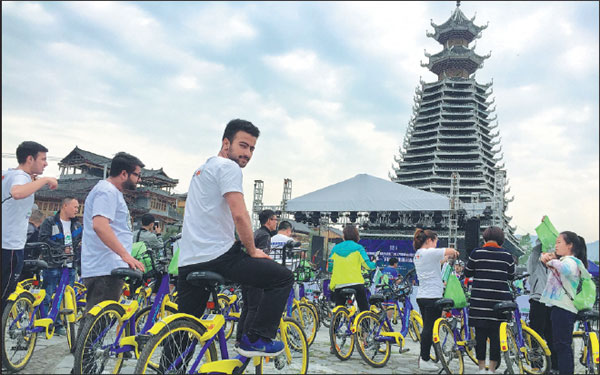 Foreign tourists ride shared bikes to China's first ethnic-themed outdoor festival held in Rongjiang, Guizhou province, earlier this year. The festival involves a combination of sports and tourism with characteristics of Dong and Miao ethnic groups.Deng Gang / For China Daily
Mountainous Guizhou province has adopted new measures to get more tourists to spend a cool summer there, as many parts of the country swelter in heat and humidity.
Tourists from 10 provincial-level regions deemed to be among the hottest in China - Fujian, Zhejiang, Jiangsu, Hunan, Hubei, Shaanxi, Jiangxi and Anhui provinces, as well as the Guangxi Zhuang autonomous region and Chongqing municipality - can enjoy a 50 percent discount on tickets to most scenic spots in Guizhou between Tuesday and Sept 15, the provincial government said in a news release on Monday.
Cars with license plates registered in the 10 areas can also enjoy a 50-percent discount on tolls if they use the provincial highway during the time.
There will also be deep discounts on airline tickets between Guizhou and the 10 areas. Airlines are encouraged to add more flights to Guizhou, for which they will be exempted from part of the fees for using airports in the province.
So far this year, 20 flights have been added to Guiyang, the provincial capital, from the 10 areas, said Wang Wenxue, deputy director of Guizhou Tourism Development Committee.
The welcome gesture was made at a time when many parts of the country are experiencing oppressive heat.
Wang said that while many areas were forecast to have temperatures above 35 C in recent days, Guizhou boasts an average temperature of 23 C in July.
The measures are expected to attract more tourists to the province, which received 81 million visitors between June and September last year.