Tragedy puts spotlight on the elderly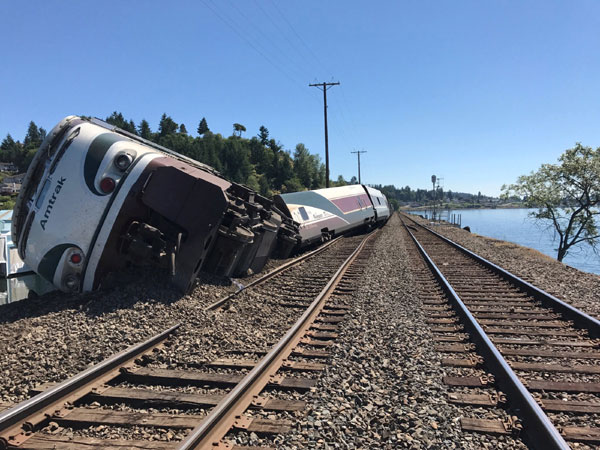 A derailed Amtrak passenger train lies on its side before the Chambers Bay Bridge on Puget Sound in Steilacoom, Washington, US July 2, 2017. [Photo/Agencies]
ON SATURDAY, a taxi drove into a group of people who were jogging in a vehicle lane in Linyi, East China's Shandong province, leaving one jogger dead and two others injured. Beijing News comments:
Many netizens have blamed the joggers for the tragedy, saying vehicle lanes are not meant for jogging. Some have even used offensive expressions to criticize the joggers, even though most of them were senior citizens.
True, the joggers violated traffic regulations, but that does not justify the use of invectives against them. Besides, the joggers alone are not to blame for the incident.
On Tuesday, the local police said the joggers as well as the taxi driver are both responsible for the incident. And they have enough reason to say so: A video shows that when the joggers took the vehicle lane, it was quite empty. More importantly, the taxi driver could see them from quite a distance but she failed to adopt necessary measures to avoid the accident.
It remains to be seen what punishment the driver gets, but she cannot escape her legal responsibility. Of course, the joggers should also be held accountable for violating the traffic rules.
The tragedy reminds us that more attention should be paid to senior citizens' needs. Many senior citizens participate in group activities, such as jogging and square dancing, because they fulfill their spiritual needs. But such activities often arouse conflicts between senior citizens and other people because there is hardly any space for the elderly to socialize and engage in such activities.
It's time society as a whole took steps to make senior citizens' lives better, for which we need open public discussions as it involves public resources.