Cities' subsidized talent contest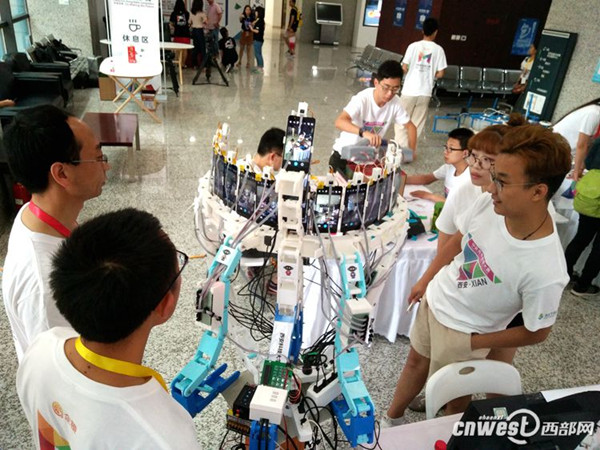 Students from Xi'an University of Science and Technology set up their 3D camera during the 2017 China-US Young Maker Competition. [Photo/cnwest.com]
THE GOVERNMENTS OF SECOND-AND THIRD-TIER CITIES are stepping up their efforts to attract new college graduates. Southern Metropolis Daily commented on Tuesday:
With around 7.95 million students expected to graduate this year, cities are competing to attract the best graduates by offering favorable policies from household registration to affordable housing.
Apart from top talents with glamorous educational backgrounds, innovative-minded graduates from across the country are being sought by more local governments.
In April, Wuhan, in Central China's Hubei province, proposed a talent recruitment plan that includes 3,600 apartments with a minimum monthly rent of just 200 yuan ($29). Changsha, in neighboring Hunan province, has promised to subsidize the housing of college graduates, who will receive 10,000 to 30,000 yuan to buy their first house in the city. Other provincial capitals such as Xi'an, Shaanxi province, even some first-tier cities, have followed suit.
During the 13th Five-Year Plan (2016-20) period, Shenzhen, South China's Guangdong province, is expected to build some 400,000 apartments for graduates, 70 percent of which will be for rent. Guangzhou, also in Guangdong, has allotted 7,000 of the 12,000 newly built affordable houses to college graduates. They are right to draw a lesson from the departure of technology startups from Silicon Valley over the past few years due to rising costs.
Job opportunities and decent work environment in megacities have for a long time attracted job-seekers, but they have been losing their magic since most fresh graduates cannot afford to live in them. It makes perfect sense that local governments therefore are willing to subsidize fresh graduates' living expenses as a way to attract them.