Elderly as noisy square dancers is a stereotype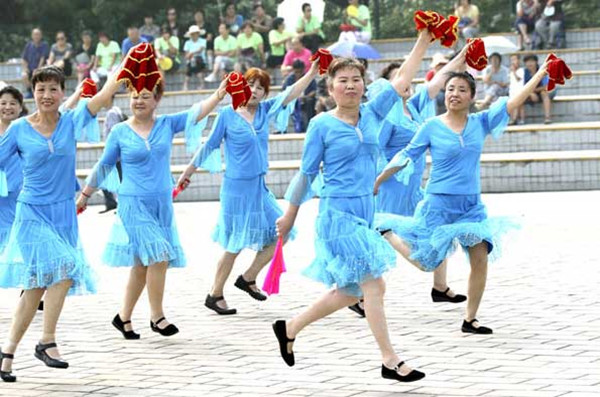 Public dancing is a consequence of China's rapidly aging society, observers say. [Photo by Zou Hong/China Daily]
ON SUNDAY, the Xiaoyuan branch of Guangzhou University for the Elderly launched an online enrollment system for senior citizens. The number of applicants reached the limit of 5,000 within one hour. Beijing Youth Daily comments:
It is common misperception that senior citizens are fond of square dancing, which has created conflicts with other residents who complain that when they gather to dance in public places they make too much noise and a nuisance. But the number that rushed to apply to study at Guangzhou University for the Elderly challenges that impression.
So a question arises: Which activity do senior citizens prefer, studying or square dancing?
The answer to that question would appear to be both. They want to engage in social activities such as square dancing and also want to stimulate their minds. The two are not mutually exclusive.
Some senior citizens have found other ways to keep both their bodies and minds active, such as doing voluntary jobs. A report released earlier this year shows that the number of registered elderly volunteers in Guangzhou, South China's Guangdong province, exceeded 100,000 and their average age is 68. Senior citizens have already become the second-largest group of volunteers in communities in Guangzhou.
At least two conclusions can be reached from the above. First, senior citizens want fulfilling lives. Second, the conflict between elderly square dancers and those who complain they are noisy could be solved in creative ways, such as giving senior citizens more chances to study on campus.