Better world economy needs concerted cooperation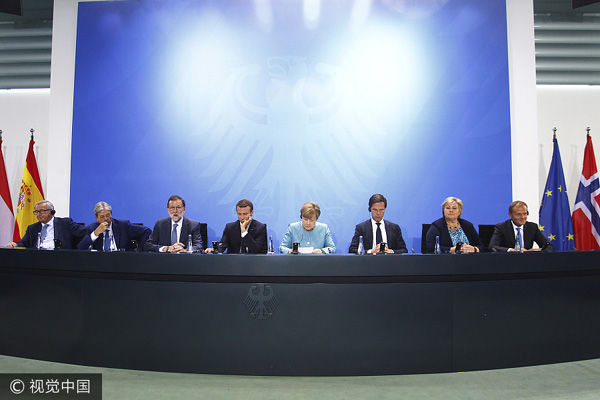 President of the European Commission Jean-Claude Juncker, Italian Prime Minister Paolo Gentiloni, Spain's Prime Minister Mariano Rajoy, French President Emmanuel Macron, German Chancellor Angela Merkel, Netherland's Prime Minister Mark Rutte, Norway's Prime Minister Erna Solberg and President of the European Council Donald Tusk attend a Press conference after a meeting of European Union leaders at the Chancellery on June 29, 2017 in Berlin, Germany. [Photo/VCG]
At the G20 Leaders Summit in Hangzhou last year, the leaders of major industrialized and developing countries reached a consensus that they would play a leading role in pushing for more inclusive and sustainable global growth, further liberalize trade and investment, and strive to improve global governance.
Now, as the leaders gather in Hamburg, Germany, for their summit on Friday and Saturday, they should be prepared to find practical ways to achieve those objectives, as the world urgently needs effective solutions to many pressing challenges.
Not least the fact that global growth remains obstinately sluggish and unbalanced nine years after the onset of the devastating global financial crisis, with policymakers in developed economies and developing nations alike struggling with growing debt, currency fluctuations, and the adverse effects of capital flows. Even worse, anti-globalization and populist sentiment have become more evident in many countries.
Germany, the host of this year's G20 Summit, is a firm champion of free trade and investment and it has taken the lead in combating the anti-globalization wave in Europe. And as the current chair of the G20, it can seek to guide those attending the meeting to bridge their differences and push forward the implementation of the global agenda as agreed.
China, as the largest developing country and the most important contributor to global growth, is offering Germany its full support in this endeavor. Meeting with German Chancellor Angela Merkel on Wednesday, President Xi Jinping said China appreciates Germany upholding the consensus reached in Hangzhou, and promised China's support so the meeting in Hamburg can achieve positive results.
With the two countries playing an exemplary role in striving to advance the necessary global agenda, it is hoped that other countries will join hands to work out feasible and effective remedies for the world's ills.
The United States, as the world's largest economy and its most important financial power, should not relinquish its responsibility to help ensure the global economy recovers its health. In an interconnected world, protectionism and isolation will not reduce the US' own economic woes, but rather risk its own economic strength and undermine its credibility as the world's leader.
The world is undergoing profound changes and major adjustments. As the premier forum for dialogue, communication and coordination among the world' s major economies, the G20 can lead the way forward by delivering on the consensus agreed in Hangzhou and promoting the trends of multi-polarity, globalization and sustainability.