Pakistani doctor saves Chinese woman's life on flight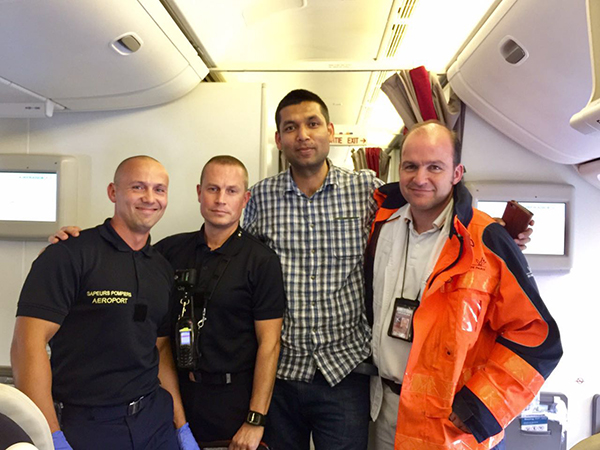 Muhammad Shahbaz (2nd R) poses with the crew members during a flight from Beijing to Paris on July 2, 2017. [Photo provided to chinadaily.com.cn]
A PhD student studying at the Shangdong University School of Medicine saved the life of a Chinese passenger on a flight from Beijing to Paris on July 2.
Muhammad Shahbaz was resting with his eyes closed when he heard a crew member requesting the assistance of a medical professional.
Muhammad got up and went to a stewardess who took him to a Chinese woman who was shivering and in distress.
"I went over to a flight attendant, and as soon as I identified myself and showed my ID to Demon Virginie, the chief of staff, they told me about the woman's condition and requested me to help the woman in distress," he said.
"I told her I was a doctor. As I can speak Chinese, she trusted me a little bit, and I told her she was in good hands."
Muhammad said the woman was suffering from severe vomiting, stress and hypothermia, which was challenging as the resources aboard the plane were limited.
"I placed an oxygen mask on the woman to help her breathe and covered her with blankets," he said.
"I then monitored her temperature, blood pressure and pulse regularly."
While Muhammad attended to the woman, arrangements were made on the ground for an emergency landing in case complications arose – an ambulance and medical staff were in contact throughout the duration of the flight.