Haughty stance won't solve rights problems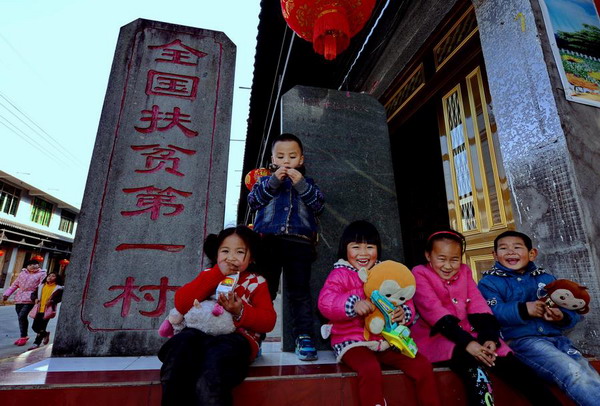 Children of She ethnic group sit in front of a monument that reads "China's No. 1 Poverty Relief Village" at Chixi Village, Panxi town, Fuding city in East China's Fujian province, Feb 14, 2016. The village has shaken off poverty thanks to assistance from Party and government officials at all levels over the past 30 years. [Photo/Xinhua]
Human rights remain one of top global concerns in the era of globalization. But given the different views of different countries on human rights protection, how can we effectively promote human rights worldwide?
The answer should be adherence to dialogue, exchanges, cooperation and coordination, because neither criticism nor confrontation is conducive to promoting global governance on any issue.
Global exchanges have created common interests, as well as common risks. Since the Earth's resources are limited, the misconduct of one country could compromise the interests of the others, even push humankind as a whole toward destruction. So to seek common interests, tackle common risks and solve common problems, all members of the international community should work together in a constructive manner and avoid creating problems or intensifying contradictions by trying to undermine each other.
If the world makes efforts to resolve international issues through consultation, all involved parties would benefit. But if it adopts a divisive or confrontational approach, all parties would suffer. In particular, this principle applies to military security, trade, natural resources, the environment and human rights protection.
The perception and definition of human rights is different, even if slightly, across societies and civilizations. Ancient Chinese sages have stressed the importance of comparison, exchange, and learning from and paying respect to each other, while advocating that people should adjust their own attitude and actions to build social harmony. That's why China emphasized "respecting each other" when it advocated the Five Principles of Peaceful Coexistence in the 1950s, which, to some extent, reflects China's understanding of the essence of inter-state relations, that is, all countries should be equal when it comes to their legal status and they should recognize the legitimacy of other countries' cultures, customs and definitions of issues such as human rights. Only in this way can they carry out effective long-term cooperation.
Trans-civilization and trans-border dialogue help countries to protect, not lose, their interests. All countries have the right to have their own definitions and concepts of human rights issues based on their economic and social development models. Instead of demanding that the definitions and concepts be identical or similar, the countries, especially the strong powers, should try to seek common ground for holding dialogue. If countries and regions with different historical and cultural backgrounds, and different political systems can share their experiences on human rights protection among themselves, their efforts will produce mutually complementary results and broaden their vision on the issue.
If all countries sit together and discuss how the global risks and problems they face could and should be tackled, they can resolve thorny issues and strengthen human rights protection.
International cooperation is mandatory for establishing sound global governance when it comes to human rights protection. Also, international exchanges and tolerance usually leads to friendly cooperation among countries while belligerency could lead to conflicts.
Peaceful discussions on contradictory views on human rights will not lead to confrontation, but instead they could facilitate mutual understanding among different countries. It is naïve for one country to adopt a haughty and prejudiced approach toward the others and ignore their social background, resource endowments and other factors.
History tells us that criticisms have never compelled a country to improve its human rights conditions. Only a society built on the basis of consultations can become a community of shared destiny and realize win-win results. And only with mutual understanding and mutual tolerance can different countries find common paths and standards for human rights protection, and the world can march toward greater harmony and prosperity.
The author is a professor of human rights studies at Jilin University and managing director of China Society for Human Rights Studies.