Trump's Paris pact withdrawal puts US last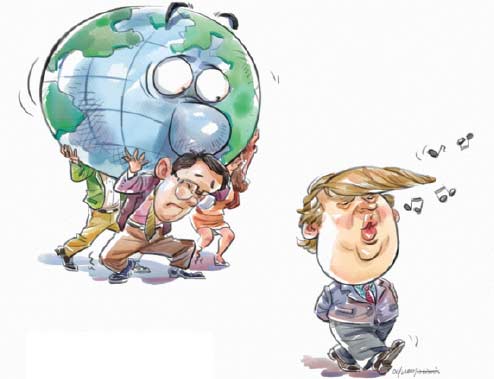 Li Min/China Daily
While US President Donald Trump has pulled the United States out of the Paris climate change agreement, the rest of the world is moving beyond fossil fuels toward sustainable, renewable energy. China has put a mandatory limit on coal consumption and has built the highest number of solar and wind power facilities of any country in the world. India's cumulative solar power capacity has increased 750 times from 2010. And Chile and other countries are harnessing solar power at half the price of coal power.
Trump has vowed to put "America First", but his reckless move actually will put America last. His actions have damaged the US' relationships with its most important allies which no longer believe they can rely on the US as a partner on climate change and other important international issues.
Trump's shortsighted decision ignores the economic opportunities provided by the transition to clean energy. Meeting the goals of the Paris climate pact will fuel a $19 trillion surge in additional economic growth over the next 30 years. Global investment in renewable power capacity in 2016 was roughly double that in new fossil fuel generation.
Low-carbon development is also fueling enormous investment in cleaner, more efficient homes, buildings, materials and transportation. The US is competitive in all of these areas. Yet by pulling out of the Paris agreement, the US is the only country-except for Nicaragua and Syria-saying "no" to the massive economic opportunities that accompany the transition to a clean energy future.
China, India and other countries, on the other hand, are more than happy to continue to fight climate change by expanding their renewable energy and energy-smart technologies, and energy-efficient homes and industry.
In the US, more people were employed in the solar power sector last year than in the sectors generating power from coal, gas, and oil energy combined. The fastest-growing job in the US is that of wind energy technician, according to the Bureau of Labor Statistics projections. That's why more than 1,000 of the world's top companies support the US staying in the Paris agreement, including US companies like Apple, Walmart, Google, Bank of America, Dow-even Exxon and Shell.
China, the global leader in renewable energy investment, also leads the world in clean energy jobs, with 3.64 million jobs last year. And it recently announced it would spend more than $360 billion on clean energy by 2020 to create an additional 13 million jobs, and at least $15 billion on worker retraining over the next two years, in order to help them adapt to the clean energy economy.
We know cutting carbon pollution doesn't hurt the economy, because the US has cut its carbon footprint by 14 percent since 2005, while expanding the economy by 17 percent during that time. China used to build two coal plants every week. Now, every hour, China builds another wind turbine and installs enough solar panels to cover a soccer field, according to Greenpeace. As the leader in wind and solar power capacity, China has tremendous potential to help other developing countries to transition more quickly to pollution-free renewable energy.
After Trump's announcement withdrawing the US from the Paris pact, China, along with dozens of other countries, reaffirmed its commitment to the climate agreement. As Foreign Ministry spokeswoman Hua Chunying said: "Climate change is a worldwide challenge and no nation can stay away ... No matter what changes may happen to other countries' position on the Paris climate accord, China will continue to pursue the concept of innovative, coordinated, green, open and shared development, taking concrete measures and strengthening active steps domestically to counter climate change, and seriously fulfill the Paris climate accord."
In contrast, Trump has decided to turn his back on the US' future and the future of our planet. Thankfully, the response from China and other countries has been to renew their commitment to upholding the Paris agreement and working to bring about a brighter future based on clean energy innovation, and to protect the precious ecosystems on which all life depends.
The author is Asia director of Natural Resources Defense Council, a New York City-based nonprofit international environmental advocacy group.