Father and daughter run for challenge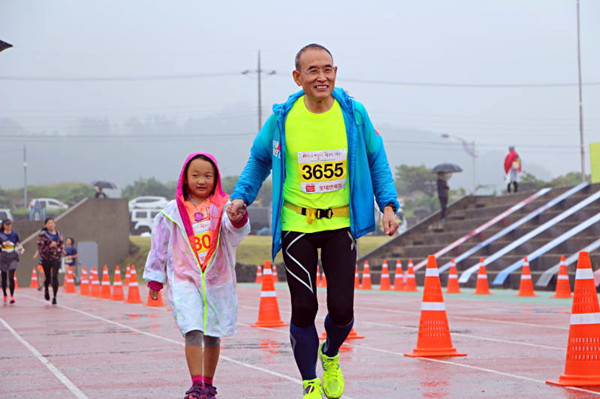 Tian Tongsheng and his daughter Tian Songran approaching the Jeju Marathon 2016 finish line, hand in hand. Photo provided to Chinadaily.com.cn
When the seven-year-old Tian Songran crossed the finishing line of 2016 Jeju Marathon's 10 kilometer run, soaked all wet in the already softening drizzle and mizzle, hand in hand with her father, she did not feel anything of big deal, despite being one of the youngest runners among thousands of participants.
However, her father, Tian Tongsheng, who has finished more than 70 full and ultra-marathons, did have a few knotty moments during, and even before the run. Having planned everything for his daughter's first race, the unexpected wet weather put him in dilemma.
"If we skip the race, then all the preparation would be in vain, if we go and run, I worry so much if she could stick to the end with adverse weather," said the father. To his gratification, her little girl insisted to the stand at the start point and finished with a smiling face.
When everyone says traveling with kids is an investment with no return, as kids are too young to remember the journey, Tian Tongsheng does not believe the idea. Tian believes travelling broadens perspective and enhances knowledge, which in return, helps in enriching their lives.
"It is not the last piece of bread you eat which makes you full," as Tian Tongsheng explains the importance of developing a habit, "when you travel to an interesting place, you learn and discover many things including new people, animals, plants and surroundings. Travelling also offers adventure and fun while providing marvelous insights that enlighten our minds."
Long before his daughter's first run in Jeju, Tian has traveled with her more than 10 countries, to participate in races and, if not, run.
By the age of two, Tian Songran had already accomplished a five-kilometer run while being pushed in a pram by her mother at the Gold Coast marathon fun run in Australia.
Then at the age of three, standing along the race court of the Berlin marathon, Tian Songran had high-fived with a number of world major marathoners, handing out her chocolate as supplies to the runners passing by, including her father Tian Tongsheng.
"Her engagement in the race would prepare her with the qualities needed for a strong runner," Tian said, who also added a father's role lies in nurturing the good personality of his daughter.
Growing up with no special care from his farmer parents in rural Shanxi province, Tian Tongsheng had learned to deal with the difficulties and pressure of earning a decent life. Errors and trials had become an indispensible part of his career, and with years of accumulation, his expertise in management has had always brought him with the invitation of lectures among many business leaders and university students, such institutions include China's leading property development company Vanke Group, and top universities like such as the Tsinghua University and Pecking University.
"With both ups and downs of my life, I know nothing is as important a strong mind and strong body," said Tian Tongsheng.
However, he added it was these difficulties the young generation lacked the most.
"Even students who attend Harvard have committed suicide," said Tian. "No one needs to be taught of enjoyment; however, it is challenge that make us stronger."
Just as his favorite writer, Haruki Murakami, uses running as both a metaphor for the focus and endurance needed by a writer, with more than 70 marathons done, Tian Tongsheng knows both the physical and mental benefits of running, which was why he wanted to start running with his daughter.
As the British distance runner Mo Farah owes his Olympic double gold medal in London 2012 down to "hard work and grafting", Tian Tongsheng also knows no matter how great an idea is, developing and delivering that great idea will need tenacity, endurance and hard work.
Running together has allowed Tian and his daughter to spend time with each other, as well as enable them to stay physically fit, while inspiring family and friends to do the same.
Apart from running, like many other Chinese parents, Tian Tongsheng also crams little Tian with all sorts of extra-curricular activities, mostly on sports, such like baseball and taekwondo.
"We should not nurture our kids to the direction of just nerds, but a perfect equilibrium of brain and brawn," says Tian Tongsheng.
First race in the cold rain, Tian Songran's next challenge seems even more challenging: a five-kilometer run in the the Lijiang snow mountain marathon, located in China's southwest Yunnan province.
With the vistas of enchanted forests, glowing aspens, and red maple trees, the Lijiang race comes also the uncertainty of cold weather, uneven trail down the snow mountain, and high altitude.
Little Tian Songran is already going through physical training for the race. "She looks very forward to it, like all the other challenges she has taken," says her father.