It's not over yet, Chinese team rekindles hopes for the future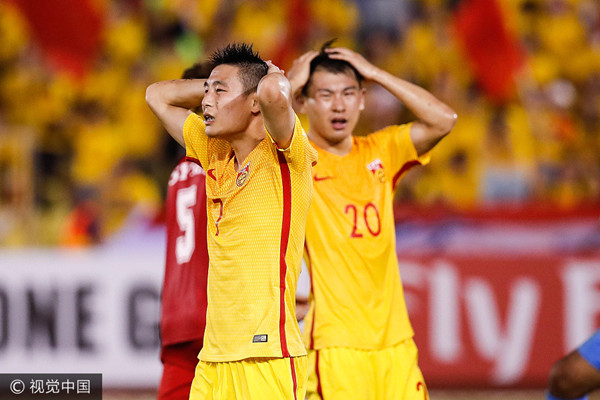 China's Wu Lei, No. 7 and Yu Hanchao, No 20, look dejected during the 2018 Russia World Cup qualifier against Syria at Hang Jebat Stadium, Malacca City, Malaysia on June 13, 2017. [Photo/VCG]
THE PROSPECT OF CHINA'S NATIONAL SOCCER TEAM reaching the 2018 World Cup finals in Russia became dimmer on Tuesday after they drew 2-2 with Syria in the Asian qualifiers. Xinhua Daily Telegraph commented on Thursday:
It was an emotional roller coaster for most Chinese soccer fans as Wu Xi's volley in the 75th minute put China in front, before Ahmad Al Saleh scored a last minute equalizer. Winning only five points in the previous seven games, China needed a win to keep alive the hope of reaching the 2018 World Cup finals in Russia.
Unfortunately, that hope may have been extinguished earlier than expected, to the dismay of not only Chinese soccer fans but also the players, many of whom are in their 30s and might not make it to the next World Cup.
With only two matches left, China, which has never been closer to playing in the World Cup finals in 15 years, needs at least six points and goal difference to snatch third place in its group and a playoff spot.
But despite the latest blow that puts China on the ropes, there is still hope. Italian coach Marcello Lippi has brought promising changes to the Chinese squad by giving the players specific, targeted orders and training, instilling in them a sense of professionalism and pride, and bringing in young talents.
Games such as the narrow win against the Republic of Korea and the 2-2 draw with Syria have seen the Chinese team better adapt to different formations and deliver better performances both in defense and in attack. The team can achieve more if it keeps up the good work.
Beating Uzbekistan by two goals and securing a win against Qatar in the next two games, while hoping the two strong rivals make mistakes, seems a lot to ask. But it is not mission impossible, and whatever comes out of the results should not change the country's focus on young talent recruitment and investing in its youth academies.