Many ways to memorialize heroic deeds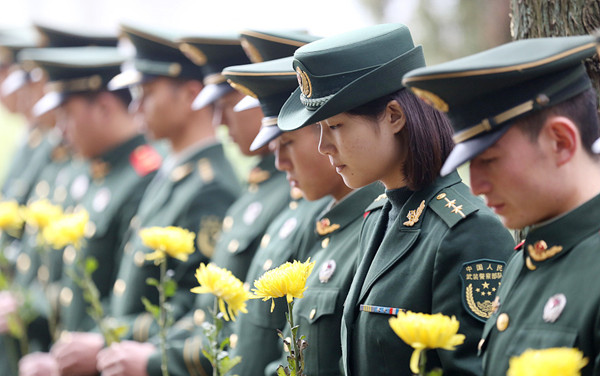 Officers and soldiers from the Lianyungang checkpoint pay silent tribute in front of the martyrs' monument at Kangrishan martyrs' cemetery in Lianyungang, East China's Jiangsu province ahead of the Qingming Festival, March 29, 2017. [Photo/VCG]
WU HONGYU, a 20-year-old college freshman in Guangdong province, was killed while trying to catch a thief in May last year. In order to pay tribute to him, a company has made him a character in a computer game. A short video of the game posted on social media has recently become a hit. People's Daily comments:
How to pay tribute to our heroes? The best way is to keep them in our memories, so that people don't forget them.
Putting Wu into a computer game is a good way of doing so, because it not only spreads across boundaries and cultures, but also shortens the psychological gap between ordinary people and Wu's heroic deed.
By telling Wu's story to more people this way, the game will encourage people to act as courageously as him when needed. That helps to promote the common good for all.
More important, such a process is sustainable because the game companies can make a profit, which in turn will support spreading the stories of other heroes further.
That should be the future direction of heroism education: We should make the stories of heroes relevant to the daily lives of young people, so that they accept the stories more easily.
Every nation memorializes its heroes. Wu's story tells us that the memorializing can be done in many ways, and it can be done in a way to achieve the best results.
Besides the computer game, we also have many platforms such as movies, TV series, and outdoor advertisement boards. It is time to diversify our heroism education so that people will readily accept it.