Punish buyers as well as sellers to cut personal info profit chain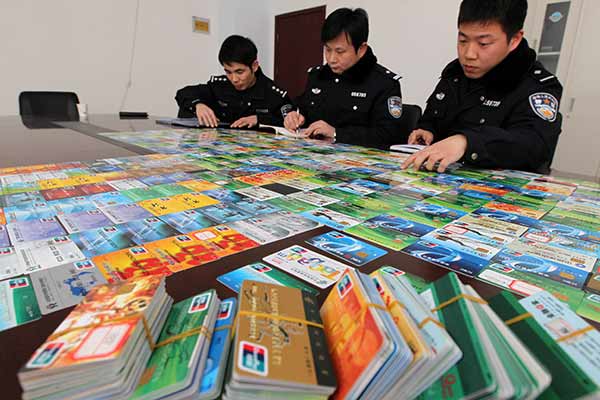 Police officers make a list of bank cards seized in a telecommunication fraud case in Xuchang, Henan province, in January. NIU YUAN/CHINA DAILY
WITHIN A WEEK of a homebuyer in Beijing completing the deal to purchase an apartment in early June, the man reportedly received at least 20 calls from interior decoration companies, as well as about 100 text messages from furniture and electric device shops. These companies knew almost everything about the transaction: His name, the address of his new house, even the exact time of the deal. Beijing News comments:
Obviously, someone has leaked the man's information to these companies. According to insiders, sometimes within hours after a buyer purchases a property, details of the deal will be sold to decoration companies and furniture shops.
Insiders also revealed the price of the personal information they sell, which ranges from up to 8 yuan ($1.17) a piece to as little as 0.5 yuan. As an indication of the scale of the problem, a suspect on trial in Guangzhou, South China's Guangdong province, was found to have illegally obtained 35 million pieces of personal information, for which he was sentenced to four years in prison.
How to curb the illegal buying and selling of personal information?
The police might need to strike more precisely to break the profit chain. It should be noted that a majority of the reported suspects who illegally obtain and sell the personal information of others are real estate agents or property salespersons, who sell the information of their clients for profit.
But the companies that buy personal information need to be punished, too. In the case of the house purchaser in Beijing, the decoration companies that called him obviously obtained his information via illegal means, but the current laws do not hold them legally accountable. It is therefore necessary to revise the laws so that the buyers of personal information receive their deserved punishments, too.
In a modern society, personal information is of great importance, and its being leaked might bring untold troubles to people. It is necessary to let those who profit by selling other people's information pay for their illegal deeds.