'Secret' drones are flying under radar of the law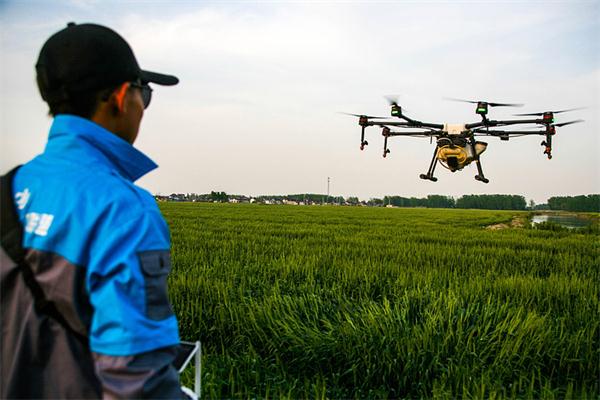 A man operates a drone to carry out spraying operations over a wheat field in Xinghua, East China's Jiangsu province, April 30, 2017. [Photo/VCG]
UNMANNED AERIAL vehicles manufactured by unauthorized workshops are for sale via live streaming platforms, provoking concerns about their safety. Chinese Business View commented on Wednesday:
It is baffling that the drones that have no production permits have been hailed by some as innovations. The crude promotional tricks aside, these unmanned aerial vehicles have to be put together by their buyers, who are encouraged to fly the drones "secretly".
That points to the security risks of these unauthorized drones. And live-streaming how the drones work and selling them directly to prospective buyers without promising any after-sale services, expose users to the risks of the unlicensed products malfunctioning and causing harm to persons or property. The secret ownership of the drones also means that in the event of any accident it will be hard to trace the owner and hold him or her accountable.
The Civil Aviation Administration of China, the country's civil aviation regulator, requires all civilian drones weighing over 250 grams to be registered under their users' real names, in an effort to secure the safety of civil aviation flights and keep at bay incidents that may disrupt an airplane's take-off or landing.
Amateur artisans are allowed to innovate and try to make their own drones, as long as their work is tested and approved by relevant authorities and does not infringe on the rights of others.
On their part, the live streaming platforms are also subject to relevant provisions of China's civil aviation rules.
Innovation can never be an excuse for not complying with the law.