China, US think tanks hold seminar on bilateral trade relations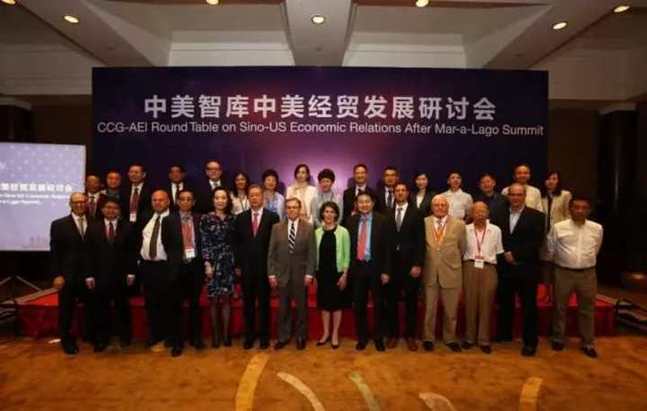 [Photo provided to chinadaily.com.cn]
Analysts from China and the United States participated in a seminar discussing Sino-US relations and bilateral trade in Beijing from Thursday
The two-day seminar, "China-U.S. Future Trade Relations after Mar-a-Lago Summit", was jointly organized by the Center for China and Globalization (CCG) and American Enterprise Institute (AEI).
The two countries recorded 500 billion U.S. dollars in bilateral trade volume in 2016, and are expected to increase trade corporation under 100-day action plan, said Jiang Shan from CCG.
The action plan, launched between China and the United States in April, has already received initial results in agriculture, energy, financial services and investment.
Under the plan, China will allow imports of U.S. beef and the United States will import poultry from China. The United States expects China and other partners to import liquefied natural gas and China will allow wholly foreign-funded financial services to provide credit ratings in China.
Derek Scissors from AEI believes that the two major powers have great potential in deepening economic and trade cooperations, for example, the development of energy sector in the United States will attract more investment from Chinese enterprises.
He Yafei, co-chairman of CCG and former vice minister of foreign affairs said that cooperation is the only correct choice for both countries.
"With more than 40 years of experience in diplomatic work, I'm confident to say that China will continue the path of peaceful development," said He. "China will also pursue its development within the existing international system."
In addition, he said China will work on promoting the democratization of international relations, so that developing countries and emerging markets worldwide can have a bigger say in global rule setting and decision making.
"China and the United States do have responsibilities to maintain stability and promote global economic growth," said He. "It is important for us to exchange views and provide policy recommendations for the two governments that will influence the future of the two countries."