Lifting global economic collaboration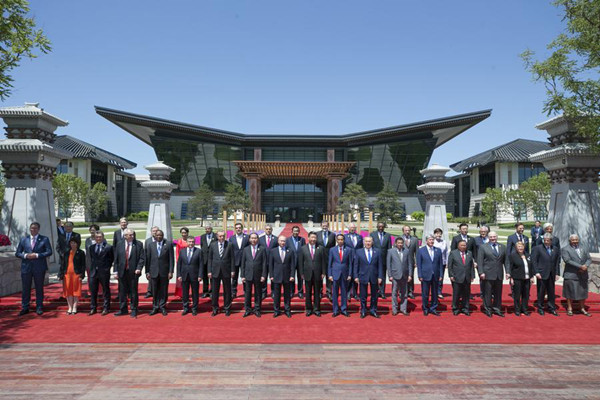 President Xi Jinping, foreign delegation heads and guests pose for a group photo at the Leaders' Roundtable Summit of the Belt and Road Forum for International Cooperation at Yanqi Lake International Convention Center in Beijing, May 15, 2017. [Photo/Xinhua]
The Belt and Road Forum for International Cooperation, which concluded in Beijing on Monday, succeeded in dispelling the myth that China aspires to dominate the world, and forging more and stronger multilateral partnerships among economies to boost global growth.
This Belt and Road Initiative is the largest China-led initiative to improve infrastructure connectivity among economies, beginning with Eurasia and extending to Africa, for a more balanced and sustainable global development. Till four decades ago, China was a relatively poor country. To eradicate poverty, it launched the reform and opening-up, which greatly expedited the pace of its economic development. And the massive infrastructure-building program that China launched made it the world leader in infrastructure construction.
Now it's time for China to share its experience, expertise and resources with its neighbors and other countries, partly because of its own economic development needs. But the fact is, other countries need China's experience, expertise and resources to strengthen their infrastructure. The United States has not built an airport in almost two decades and the United Kingdom has not built a nuclear power plant in almost 30 years. In contrast, China has not only been continuously constructing such facilities over the past three decades and more, but also building high-speed railway for about 10 years and is home to some 60 percent of the world's high-speed railway network. Therefore, China enjoys an advantage over developed economies when it comes to costs and the use of technologies for building such infrastructure facilities.
China is more than willing to share its experience and expertise with other countries, in order to help them boost their economies. But it has to advertise its experience and expertise in infrastructure construction to attract other countries so as to ensure its own economy grows at a healthy rate. Such supply-demand partnerships have been embraced by other economies at such a pace that the Belt and Road Initiative has, in less than four years, expanded to Africa, even Latin America. Besides, a UN Security Council resolution has urged that efforts be made to implement the Belt and Road Initiative to boost regional cooperation, especially for the revival of Afghanistan's economy.
In his keynote speech at the Belt and Road forum, President Xi Jinping made it clear that China is advancing the Belt and Road Initiative without any intent to export its social system or development mode. China doesn't intend to form any destabilizing groups either, instead, it wants to foster a harmonious family of economies.
Moreover, even though China proposed the Belt and Road Initiative, it is interested neither in imposing its view upon other countries nor in dominating the Belt and Road projects. China knows that such an unprecedented initiative has to be "consulted, built and shared" together. This is a major reason 29 heads of state and government participated in the Beijing forum, where every represented economy was a stakeholder.
As far as consultation is concerned, China intends to be an equal partner to other collaborators. To build together, it is ready to contribute to as well as learn from its partners. And to share together, China has no intention of dominating the process-rather it seeks mutually beneficial results. Since Xi proposed the Belt and Road Initiative in 2013, China has been smoothing its discourse on how economic development can be used to make the world a better place. The success of the Beijing forum shows that China's discourse has been well received.
This is especially important at a time when global economic growth is sluggish, and nationalist and protectionist sentiments in the US and some European countries pose a threat to globalization, especially because over-protectionist measures could lead to a currency, even trade conflict.
Amid the global economic gloom, the Belt and Road Initiative injects afresh the spirit of multilateral cooperation into the world economy and will create win-win opportunities, which could lead to a more vibrant regional and global economic recovery.
The author is a professor at and associate dean of the Institute of International Studies, Fudan University.