Taking inspiration from the friendly emissaries of the ancient Silk Road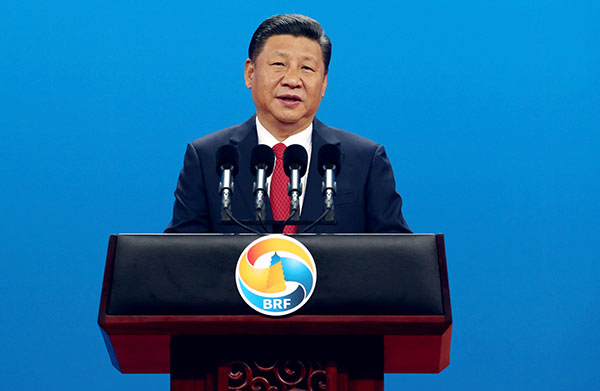 President Xi Jinping delivers a keynote speech at the opening ceremony of the Belt and Road Forum for International Cooperation in the National Convention Center in Beijing on May 14, 2017. [Wu Zhiyi/China Daily]
In his opening address to the Belt and Road Forum for International Cooperation in Beijing on Sunday, Chinese President Xi Jinping spoke of the need for harmonious coexistence, saying there is a "deficit" in peace, development and governance that needs to be overcome.
At an important juncture such as this, it serves us well to reflect on how we got here before we think about how to move forward. The prosperity of developed nations, which is celebrated as a characteristic of their "advancement", was built on militarism and colonization. The greed and self-serving agendas of many of today's developed nations have left them fighting among themselves over the most trivial of things.
China stands ready to drive the development of Asia, Europe and Africa, with an agenda based on the spirit of the ancient Silk Road, which embodies peace and cooperation, openness and inclusiveness, mutual learning and mutual benefit.
"We find ourselves in a world fraught with challenges. Global growth requires new drivers, development needs to be more inclusive and balanced, and the gap between the rich and the poor needs to be narrowed," Xi told the forum.
Conflict has emerged on so many levels in modern times. Countries are literally being torn apart by violence, terrorism and poverty. On one side stand those which are ready to open their hearts and minds to a better future, while on the other huddle those who would close their borders and lock themselves in a dark room, blaming everyone for their ills except themselves.
In some developed countries people are arguing about how much money a politician spends on their interior decoration, while in the developing world many people are united by the desire for a roof over their head.
As people in England complain about hose-pipe bans in the summer and US President Donald Trump's golf courses turn brown at the edges, in Africa only 5 percent of agricultural land is irrigated.
The sad fact is that many of the world's poorest nations have been raped and robbed by former colonial powers who left them destitute while enriching themselves. These colonialists are often the very countries that have the audacity to speak in such lofty tones about "the China threat".
The developmental model of the past was neither sustainable nor fair. This is why a new approach is needed, one which, in the words of Xi, requires "partnerships of dialogue with no confrontation, and of friendship rather than alliance".
What China proposes is not about either I win or you win. It is not about us versus them. Are you with me or against me? It is about you and me. It is about countries and peoples joining hands and working together; a human chain for cooperation that stretches from ocean to ocean across some of the most troubled regions on the planet.
Xi said: "The pursuit of the Belt and Road Initiative is not meant to reinvent the wheel. Rather, it aims to complement the development strategies of the countries involved by leveraging their comparative strengths."
When we talk about growth and prosperity in less-developed and developing nations, we are not talking about a new car, 10 computers for every classroom or free healthcare for all. We are talking about a road, a classroom or a doctor.
It has been less than four years since Xi outlined his proposals to revive the Silk Road spirit, a mere Olympiad, but China is an intergenerational thinker. China's plans and initiatives do not span months or a single presidential term. When China looks to the future, China looks years, decades, centuries ahead. For more than a millennium the Silk Road was the world's most important trading corridor. With goodwill, trust and benefits for all, who knows what the next millennium may hold? We know what the alternative brought.
The author is a writer with Xinhua News Agency