Japan's divisive TPP move seems mission impossible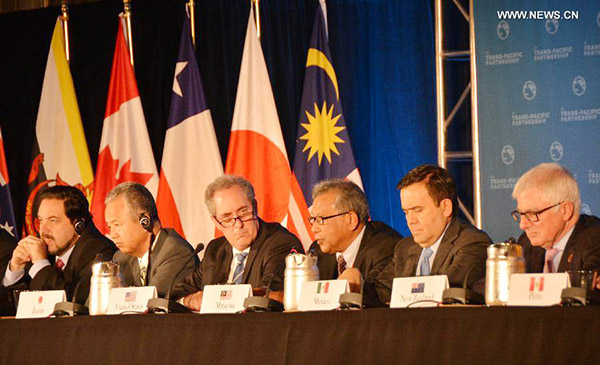 Trade ministers of the United States and 11 other Pacific Rim countries attend a press conference after negotiating the Trans-Pacific Partnership (TPP) trade agreement in Atlanta, the United States, on Oct 5, 2015. [Photo/Xinhua]
During this week's meeting of the chief negotiators for the 11 countries remaining in the Trans-Pacific Partnership agreement, which was held in Toronto, Canada, on Tuesday and Wednesday, it became clear that Japan is keen to take over the helm relinquished by the United States, and it is pushing hard for the deal to be executed on time.
Tokyo's enthusiasm for the much weakened, if not dying, multilateral pact, is clearly politically motivated.
From the very beginning, the US-initiated pact, which was part of the previous administration's pivot to the Asia-Pacific, has borne the hallmarks of political calculation, as China, the world's second-largest economy, was deliberately excluded from what was claimed to be a pure economic arrangement.
And for Japan, which is already locked in a bitter maritime territorial dispute with China in the East China Sea, the TPP has emerged as another way for it to compete with China for influence in the region. So after newly installed US President Donald Trump pulled the plug on the deal, saying it was not in the US' best interests, Japan, fearing China would fill the vacuum left by the US and further expand its sphere of influence in the Asia-Pacific region, has been keen to keep the deal alive.
But, no matter how much Japan tries to breathe new life into the deal, with the withdrawal of the US, the future of the TPP looks bleak.
The 11 remaining Pacific-rim countries that agreed to the US-led deal are not united behind Japan's purpose, with Peru, for instance, having made public the idea of bringing China into the partnership. Not to mention that, without the US, the combined GDP of the remaining members now accounts for only 13 percent of the world's total, which reduces the significance of the pact.
In fact, sooner or later Japan will find it mission impossible to revive the TPP, let alone use it as a tool to contain China.
Nor does its anxiety over its neighbor's rise reflect the mainstream view of China as an important upholder of free trade and globalization.
In the face of the sluggish global economic recovery and growing protectionism, China has been increasingly looked upon as an important force to counter the fragmentation caused by such non-inclusive trade arrangements as the TPP.
Instead of adopting a divisive stance, China remains steadfast in vigorously working for an innovative, interconnected and inclusive regional and global economy, as proved by its advocating of negotiations on the more inclusive Regional Comprehensive Economic Partnership and its advancing of the Belt and Road Initiative.