Strictly regulate glass-based bridges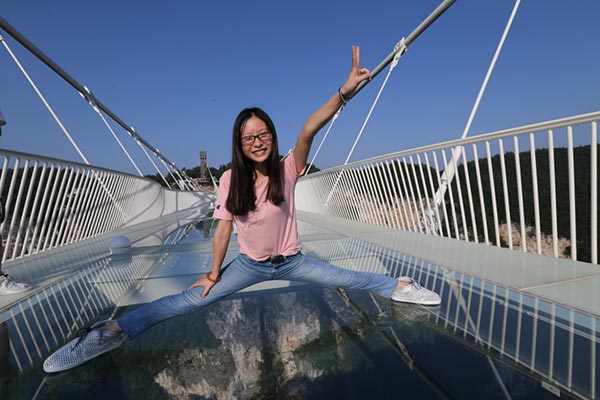 A visitor poses for a photo on the glass bridge, in August. [Photo provided to chinadaily.com.cn]
Editor's note: During the just-concluded May Day holiday, "glass paths" became the new buzzword in the tourism sector. Two experts share their views with China Daily's Zhang Zhouxiang on the mushrooming of glass-bottomed walkways over gorges in scenic spots across China.
Are the 'glass paths' worth the trouble?
Glass-bottomed bridges were first built between two cliffs so that people could enjoy the scenery around while being aware of the scary depth of the ravine below. For example, in Baishi Mountain Geological National Park in Baoding, North China's Hebei province, a 95-meter-long, 2-meter-wide glass-bottomed walkway was built at an average altitude of 1,900 meters to allow visitors to experience the beautiful but stomach-churning scenery below.
The problem is that glass-bottomed walkways have mushroomed across China. Search glass-bottomed walkways on domestic tourism website tuniu.com, and you will find that 24 cities have built such "glass paths" as their tourist sites. And since a majority of the "glass paths" have been built across valleys bereft of natural beauty, one cannot but question the wisdom to build them.
The rush to build "glass paths" shows the officials in the domestic tourist sites lack creativity. Instead of using the inherent advantages of the tourist sites, they are busy copying ideas and examples from others. Such homogenization fails to meet tourists' diversified demands.
More importantly, the glass needed for the glass-bottomed walkways is expensive and the total cost of such a bridge can run into several million yuan, and some tourist sites may fail to earn enough revenue to cover the expenses, let alone make profits, which would be a waste of tourism resources. And any compromise with the quality of the glass or the overall glass-bottomed bridge could spell trouble.
Liu Simin, vice-president of tourism at Beijing-based Chinese Society for Future Studies
Such bridges need total safety system
No major accidents have been reported from glass-bottomed walkways. And many tourism sites claim double-or multi-layered armored glass, which is three to four times stronger than ordinary glass, have been used to build such walkways.
But good safety records do not necessarily guarantee safety in the future. There is a national standard for the glass used in outer parts of structures (as a curtain wall for a building for example) but no special standard for the glass used in glass-bottomed walkways. I do not mean to raise unnecessary alarm, but without a national standard no one can ensure safety forever on the "glass paths".
Besides, people tend to equal the risk with glass-bottomed bridges to the cracking of glass and people falling into the ravines. But that is not the only risk.
On April 9, the overcrowding on a glass-bottomed bridge in Mulanshengtian tourism zone in Wuhan, Central China's Hubei province, amidst heavy rainfall caused an accident in which one person died and three were injured. The incident should be a lesson for us. Regular safety checks must be conducted to test the strength and durability of such walkways, while the maintenance and supervision staff should be fully trained to know under what conditions the walkways should be closed and how to deal with emergencies.
Besides, not everybody is fit to walk on such "glass paths", because looking down into a deep ravine might raise a person's blood pressure, increasing the risk of a heart attack. In fact, several reports have said tourists started crying out in fear on such walkways. The tourist sites with such walkways should therefore display clear safety instructions so that visitors know the risks and people with unfavorable health conditions stay away from them.
Only a comprehensive safety system can ensure tourists' safety on glass-bottomed bridges.
Gong Jian, an associate professor at Wuhan Branch of China Tourism Academy