Nourishing Chinese virtues to make Chinese culture great again
Recently, I had a special experience that personally connected me to both the Chinese Dream and the long sweep of Chinese history when I was honored to be a host-presenter in Shenzhen for the Confucius-Mencius Foundation (CMF) and meet descendants of the two sages, Confucius and Mencius.
The Chinese Dream of course is all about the great rejuvenation of the Chinese nation, once the world's most powerful, but in recent centuries subject to humiliation by foreign countries.
In America something is "old" if it dates back a century. Some places like Harvard University founded in 1636 is practically pre-historic for the country. In China, with a history of millennia, this is a mere speck in time!
In preparing for the Confucius-Mencius Foundation forum, I was reminded that Confucius was active more than 2,000 years ago during the Spring and Autumn period (771-476 BC). He was what we call today a Renaissance man as a philosopher, teacher, editor and public servant. His teachings emphasized personal and governmental morality, justice and sincerity. He is perhaps best known as the originator of the Golden Rule - "Do not do to others what you do not want done to yourself" - which centuries later was incorporated into Judeo-Christian and Muslim core beliefs.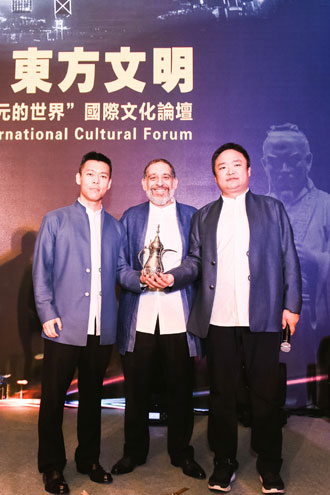 Meng Liang (L), Kong Ren (R) and CMF cultural ambassador Mishal Kanoo who holds a silver coffee urn given as a symbol of Middle East hospitality to the Confucius-Mencius Foundation. [Photo provided to chinadaily.com.cn]
Mencius, who lived after the death of Confucius, was a teacher, evangelist and extender of Confucian thought. One cannot be divorced from the other as both were a team, albeit separated in time, but not in spirit.
The goal of the Confucius-Mencius Foundation is to nourish core Chinese ancient values and virtues in order to make China and Chinese culture great again.
What was so meaningful to me was that the thoughts of Confucius and Mencius weren't merely present in dusty old tablets and books, but in the living embodiment of their descendants and co-founders of the Confucius-Mencius Foundation. Kong Ren, 78th generation direct descendent of Confucius and Meng Liang, 79th generation direct descendent of Mencius.
Kong Ren said that the foundation creates a good social atmosphere by advocating ideas of respect, filial piety, honesty and related values. He said that it is committed to pursuing a world of peace, harmony and diversity through cultural exchanges and cooperation with other civilizations. Meng Liang said that one goal is to build China's soft power by establishing 50 Confucius-Mencius Academies on every continent.
I was honored to meet and interview CMF Ambassador of Chinese Civilizations former Polish President Bronislaw Komorowski, who displayed great moral strength and humility in assuming office when much of his country's leadership died in a tragic plane crash, and CMF Cultural Ambassador Mishal Kanoo, chairman of one of the largest and most successful family-owned businesses in the Arab world.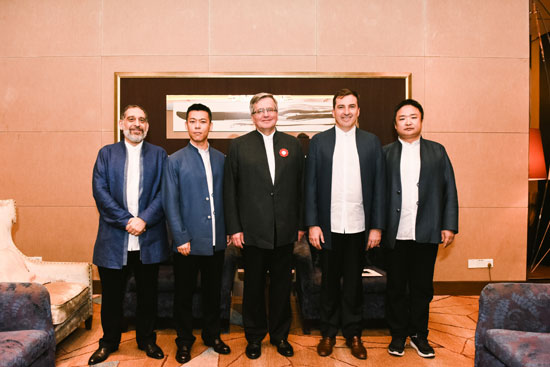 Participates of Confucius-Mencius Foundation pose for a picture. (From left: Mishal Kanoo, Meng Liang, President Bronislaw Komorowski, Ambassador Fernando Lugris and Kong Ren) [Photo provided to chinadaily.com.cn]
You wouldn't think that Confucian influence extends 20,000 km from China but it does according to Uruguay Ambassador Fernando Lugris. He spoke about the increasingly close bilateral cultural and economic ties, especially since the state visit to China of President Tabare Vazquez last year.
Serving as host-presenter was not only an honor for me but meeting the descendants of Confucius and Mencius and three outstanding leaders continuing to carry on the noble work of their ancestors was truly inspirational.
The author is a senior featured contributor of China Daily website.
The opinions expressed here are those of the writer and don't represent views of China Daily website.