Give private and public hospitals differentiated roles in the market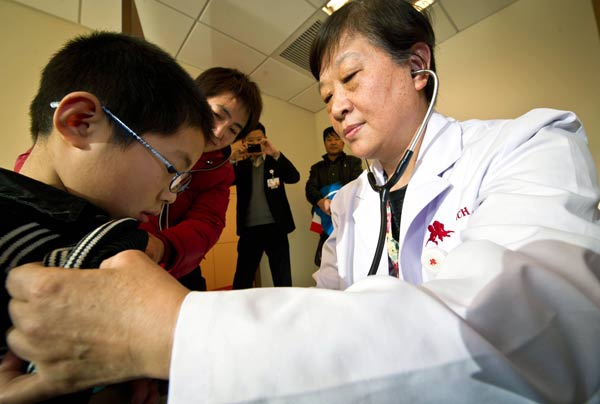 A doctor treats a boy at Tianjin New Century Children's Hospital in Tianjin. The hospital, which opened last year, is the first private hospital for children in the city. Yue Yuewei / Xinhua
THE TAIYUAN MUNICIPAL HEALTH AND FAMILY PLANNING COMMISSION has launched an investigation into reports that unqualified people posing as "doctors' assistants" appeared on online live broadcast platforms in Taiyuan, capital of North China's Shanxi province, and directed viewers to a private hospital in the city. Changjiang Daily comments:
Reports show that the hospital involved is a private one. If that's true, it is another example of the chaotic situation in the private hospital market.
Although that is not to say all private hospitals resort to such illegal practices, there have been many reports about private hospitals publishing exaggerated advertisements or hiring unqualified personnel to illegally attract patients.
The root of the problem lies in the wrong positioning of private and public hospitals in the market. A common practice in developed economies, which has proved to be quite effective, is to let public hospitals provide basic medical services while private medical facilities provide high-end, even tailored, services.
However, at present in China, many private hospitals are competing with public hospitals to provide basic medical services. Private hospitals lag far behind their public counterparts in terms of funding, technology, as well as human resources, so in order to make money many of them resort to illegal measures to attract patients.
Worse, the lack of proper supervision over the medical market has made the illegal deeds of private hospitals rampant.
Such chaos in the medical sector must be curbed because people's health is at stake.
The government needs to take multiple measures to curb the chaos. The medical market must be further supervised to strike at the illegal advertising deeds of private hospitals. More important, private hospitals should be positioned differently in the market from public hospitals so that they can prosper in a healthy manner.