Xiongan New Area a torchbearer of reform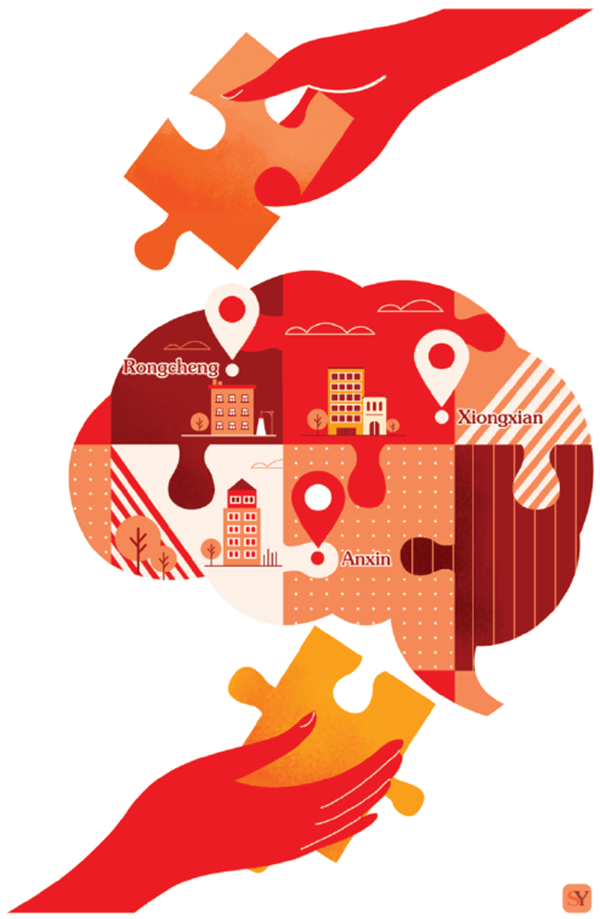 SHI YU/CHINA DAILY
On April 1, China announced it will establish Xiongan New Area in North China's Hebei province, about 100 kilometers southwest of downtown Beijing, covering the counties of Xiongxian, Rongcheng and Anxin. A fundamental mission of the new area, which is expected to emulate and improve on the success of the Shenzhen Special Economic Zone and the Shanghai Pudong New Area, will be absorbing part of the non-capital functions of Beijing.
Three years ago, President Xi Jinping made clear Beijing's role as the national capital: the country's political center, cultural center, and center for international exchanges and science and technological innovation. The city is making efforts to cure itself of the "urban diseases", including growing population, traffic congestion, soaring property prices and an insatiable demand for resources.
While designed to offload part of Beijing's non-capital functions, which have not yet been elaborated by the decision-makers, Xiongan New Area attaches equal importance to "reform" and "opening-up". In other words, the new area has great potential to become an exemplary economic zone driven by reform and innovation.
Xiongan New Area, according to He Lifeng, head of the National Development and Reform Commission, will aspire to be an "innovation high ground" where emerging administrative, investment and financing models will be tried. Policy and financial support will also be given to major projects in transportation, ecology, water conservation, energy and public services.
China has built a number of State-level new areas in various provinces and regions since the establishment of the Shanghai Pudong New Area in the 1990s. But not all of them have had an exemplary record in innovation, and some still have a long way to go to complete full industrial transformation and upgrading of software facilities.
In this context, Xiongan should be more "selective" in taking over non-capital functions of Beijing if it wants to be a subsidiary center of the capital. There is no crystal clear distinction between capital and non-capital functions, so Xiongan's role should be based on the progress of the coordinated development of the Beijing-Tianjin-Hebei region and resource endowment of cities in the area.
The establishment of Xiongan New Area and the ongoing transformation of Beijing's Tongzhou district into a new "subsidiary administrative center" will be two key elements of the coordinated development of the Beijing-Tianjin-Hebei region.
Parallels can be drawn between Xiongan New Area and its counterparts. Established State-level new areas like Tianjin's Binhai New Area share the pursuit of reform and opening-up, emerging industries, efficient transportation network and new urban areas.
Xiongan New Area is also expected to guide the overhauling of the economic mechanism. The reform in previous new areas has been mostly "opening-up-oriented", which is in line with the country's reform and opening-up practice over the past decades. Xiongan's mode may create a reform-driven model.
On its part, the new area needs to seize the opportunity to improve its not-so-competitive industrial base, in a bid to supplement the efforts to expedite regional integration. Allowing locals to enjoy public services, including household registration, education and medical treatment at Beijing's level, too, is vital to Xiongan's future as a zone marked by freer flow of resources.
The article is an excerpt from a recent report issued by Pangoal Research Institute of Macro-Economics, Pangoal Institute.