Time for the West to take China's Belt and Road Initiative seriously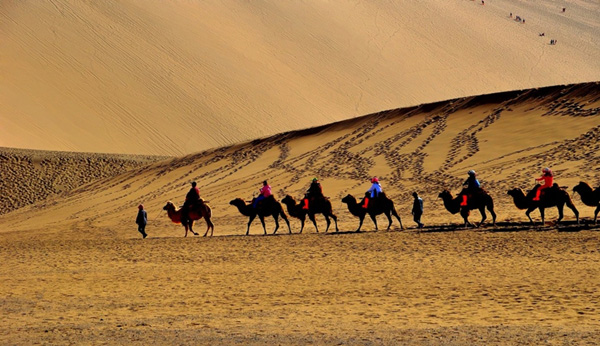 Tourists ride camels on the Mingsha Sand Dunes during a visit to Crescent Moon Spring on the outskirts of Dunhuang county of northwest China's Gansu province. [Photo/China Daily]
As China's annual two sessions gets under way, it is time to reflect seriously on a time of global transition. There are many important decisions to be taken and long-term strategies to implement. China's decision makers have their work cut out, but at least the issues facing them are fairly clear, even if finding solutions may be more problematic.
Such clarity of purpose is not the case in Western countries. Confusion reigns in the United States and Europe, due to (respectively) the unexpected election of Donald Trump as American president and questions surrounding Britain's equally unanticipated exit from the European Union.
These sudden swerves towards an uncertain future represent more than just detours in the road to progress. They show not only the shortcomings of Western democratic systems in terms of the impact of popular votes on the long-term development of policy, but also that many people in North America and Europe no longer approve of the direction their countries are moving in.
Arguably, citizens' disapproval also reveals a lack of progress in improving people's lives. There is a palpable sense that the developed nations are standing still, going nowhere, perhaps even going backwards. This also suggests that it is no longer necessarily the case that the West is going to continue to lead the world.
Western countries, which have pointed the way to economic development for so long, appear no longer able to continue in the role. In January and February, President Xi Jinping gave strong signals that he believes China is ready to step into the leadership gap.
In January, at the World Economic Forum in Davos, Xi gave a well-received speech which explained the need to pursue economic globalization rather than giving up on it. This was a direct challenge to Trump's vision of a protectionist America putting up walls against the outside world.
Then, in February, at a national security seminar in Beijing, Xi indicated that the time is ripe for China to take on the role of 'guide' to the nations of the world. According to this vision, the task of showing how to build a better world has, for the first time, become China's.
Since the US is no longer offering any clear vision of the future, and the EU is preoccupied with preventing its own break-up and figuring out what to do about refugees, Xi's proposal is, at present, the only game in town. And the rules of this game involve the enhancement of global trade, infrastructure and connectivity.
A key project directed at delivering the Chinese president's vision to the world in a practical form is the Belt and Road (B&R) Initiative. This consists of two parts; an overland 'belt' and a maritime 'road'. It involves the participation of over 60 countries, and was proposed by Xi in 2013.
Recognizing that better connections between countries are vital for improving business between them and economic growth for all parties, B&R aims to build better transport infrastructure such as ports, railways and roads between Asia, Africa, the Middle East and Europe. It is also focused on finding new solutions to energy security problems.
To this end, Chinese companies have begun a wave of construction across the B&R zone. Railroads are being built in Africa, and a high-speed connection intended to connect Asia and Europe via Russia is on the table. Ports are being developed in East Africa, Greece, Pakistan and Sri Lanka, among others. Oil and gas pipelines are being installed across Asia.
China is also serious about making renewable energy a viable proposition. Five of the top six solar panel manufacturers in the world are now Chinese. The Longyangxia Dam Solar Park can be seen from space. China's potential for economies of scale in green energy is unrivalled, meaning that for the first time the renewable energy industry is on the verge of becoming a profitable business at a global level.
All these developments, as well as progress on other connected projects such as the China-Pakistan Economic Corridor and the Bangladesh-China-India-Myanmar Economic Corridor, show that B&R is both realistic and extensive. In its ambitious scope, it also alters the conditions for what can be achieved in expanding the basic conditions for global trade.
It is, therefore, high time that the West took B&R and China's vision for the world more seriously than has hitherto been the case. Since Western countries are essentially not offering any rival initiatives (especially since the demise of the Trans-Pacific Partnership), they should recognize that China's plan presents a new deal for globalization, and participate in its realization.
After all, in the absence of any alternative conception of the transformation of the world, meeting China halfway seems the most sensible course of action if there is a genuine wish to improve the state of people's lives and the planet too. If Chinese cards are the only ones on the table, what choice is there but to deal them?
Jeremy Garlick is a lecturer in international relations at the Jan Masaryk Centre for International Studies, University of Economics in Prague.