ROK, US should reconsider before destabilizing region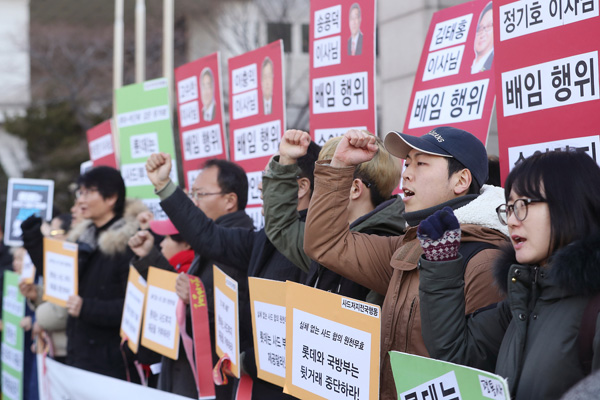 People gather to protest the land swap contract between the military and Lotte Group in Seoul, South Korea, Feb 27, 2017. [Photo/VCG]
Despite strong Chinese and Russian opposition, the Republic of Korea's defense ministry signed a contract with the Lotte Group on Tuesday for a land swap that will enable the deployment of a US anti-missile system.
The deal will speed up the deployment of the US' Terminal High Altitude Area Defense system in the ROK, which jeopardizes China's national security and regional peace.
Although the two allies say the system will safeguard the ROK from any missiles fired at it by the Democratic People's Republic of Korea, the THAAD will by no means make the ROK safer. Designed to intercept ballistic missiles at an altitude of 40-150 kilometers, it will not shoot down the short- and medium-range missiles of the DPRK that fly at an altitude of less than 40 km.
Instead, the deployment of THAAD will only exacerbate the estrangement between the ROK and the DPRK, and likely prompt the DPRK to seek a greater sense of security by speeding up its weapons program.
Beijing has made its position unequivocally clear, repeatedly urging the ROK to reconsider its decision. It has made no bones about the fact that it opposes the ROK's deployment of THAAD. Not only because it is a provocation to the DPRK that threatens regional stability, but also because it breaks the strategic balance in the region. The system's radar, which has a range of more than 2,000 km, can peer deep into China's territory, compromising China's military deterrence capability, and damaging its security interests.
Indeed, rather than being a means to enhance the ROK's security as claimed, the deployment of THAAD in the ROK will make the country part of the US' global missile-defense system that targets countries such as China and Russia as potential enemies. By riding on the war chariot of the United States, the ROK is letting itself be drawn into the superpower's geostrategic game.
Even though the current situation leaves China no option but to take countermeasures to safeguard its own interests and security, that does not mean the door to talks aimed at breaking the stalemate in bilateral relations has been shut.
While Washington has adopted a divide-and-dominate strategy in Asia, Beijing is seeking to resume Six-Party Talks for the good of all in the region.
The ROK should take concrete steps to repair the damage it is doing to both bilateral relations with China and the multilateral efforts to resolve the DPRK's nuclear issue.
The ball is in the ROK's court.