QR codes too easily misused by criminals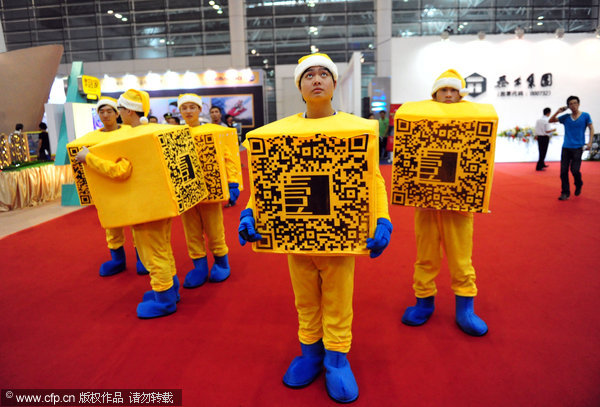 Costumed workers wear QR codes to promote real estate in Fuzhou, East China's Fujian province on May 26, 2012. [Photo/CFP]
IN GUANGZHOU in South China's Guangdong province about 90 million yuan ($14.5 million) has reportedly been stolen from people through the fraudulent use of quick response codes which are often scanned for product identification and mobile platform access. Southern Metropolis Daily commented on Wednesday:
There are two reasons why QR codes are a popular means of conducting criminal activities. First, the code technology is not very secure and it can be manipulated by criminals. Second, QR codes are a kind of information technology that cannot be verified as genuine by the eye. Some criminals paste their own QR codes over the original ones to illicitly obtain money, as ordinary consumers simply cannot tell the difference.
That is why we are powerless to prevent QR codes from being used for fraudulent activities, and that is precisely why the enterprises using QR codes should assume their share of the responsibility for protection.
WeChat Pay and Alipay, two popular payment apps, have installed software to strengthen security in terms of monitoring and providing protection.
For example, Alipay has a website detection function, used to determine whether an embedded QR code being scanned is a malicious link. If it detects a security risk, the system will issue a security prompt, allowing users to determine whether to proceed or not.
But for regulating the use of QR codes, establishing a unified management system for their use is also needed to guard against their malicious use.