Online games 'curfew' necessary to curb juvenile internet addiction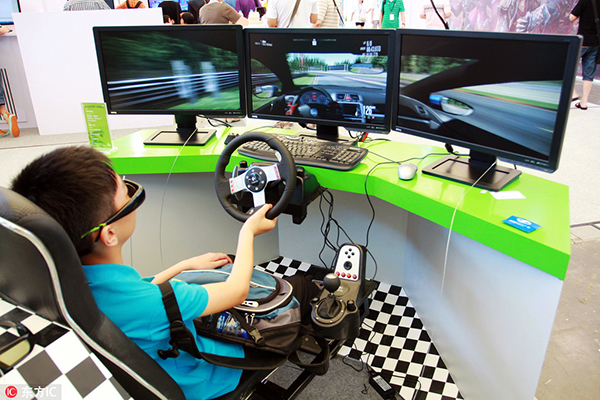 A child is playing online game during the 9th China Digital Entertainment Expo & Conference, also known as ChinaJoy 2011, in Shanghai New International Expo Center, China, July 28, 2011.[Photo/IC]
The Cyberspace Administration of China last month released a full-report and draft regulations to grapple with the problem of youth internet addiction. If the regulations are adopted, under-18s would be banned from playing online games between midnight and 8 am. Shenzhen News comments:
The internet is an incredibly powerful tool which has revolutionized the way young people learn and stay in touch with each other. However, with such power comes great responsibility. It's crucial to deal with the growing problem of internet addiction in youngsters, as well as keep teenagers safe online from cyber-bullying and crime.
If the 'no gaming after midnight' rule comes into effect, it could make a slight dent in gaming companies' revenue as after midnight can be a busy time, and some of players would be teenagers.
According to the China Internet Network Information Centre, the total number of Internet users in China has reached 750 million, the highest in the world. As of December last year, around 23.4 percent of them was aged under 19.
Teens choose to play online games at night mainly for two reasons. Firstly, the browsing experience is quicker at nighttime. Another reason is that an overload of schoolwork leaves them no time for games until later. However, the period between midnight to 8am is crucial for human physical functions. Excessive gaming overnight can make it difficult to fall asleep and have adverse effects on the teen's health. The Internet ban aims to stop juvenile internet addiction will undoubtedly be effective.
This is not the first time authorities around the world have stepped in to stop younger people from being addicted to online games.
On May 19, 2011, South Korea passed the "shutdown law" which forbids children under the age of 16 from playing video games from midnight to 6am. Germany also introduced regulations requiring web game developers to block minors from playing online games from 10pm or 11pm to 6am the next day.
China's draft law drew public attention as soon as it surfaced. Some internet users applauded the law as a way for China to better protect its juveniles online, while others wondered whether it would be practicable if it came into effect, as teenagers could just borrow IDs to visit internet bars to play online games.
Under the draft law, families and schools would be obliged to make sure teenagers do not overstep the boundaries in cyberspace and ideally nip any internet addiction in the bud. That requires a change in their exam-oriented mentality. Focusing only on good grades is not enough to instill in them the right approach to the internet, and leaving the "internet addicts" in the wrong hands would be even more irresponsible. Parents should be guided on what they can do to help teenagers or children addicted to video games.
For years the government has been working to restrict many types of online content and combat internet addiction, but there's still a long way to go in terms of providing a safe and healthy online environment, especially for the young generation.