Trump breaks new ground in unpopularity stakes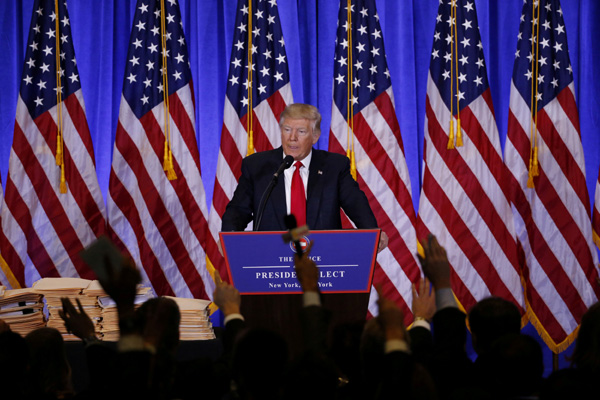 US President-elect Donald Trump speaks during a news conference in the lobby of Trump Tower in Manhattan, New York City, US, January 11, 2017. [Photo/Agencies]
In a somewhat inauspicious start to the presidency of Donald John Trump, who was sworn in on Friday as the 45th president of the United States, opinion polls in the run-up to the ceremony put his approval rating as low as 37 percent.
US presidents normally only become that unpopular after they take office.
The surveys gave him the lowest rating of any incoming president in 40 years. Polls, of course, can lie. Or in this case, as Trump told his 20.2 million Twitter followers: "They are rigged".
Either way, the numbers suggest an uncertainty about the forthcoming presidency that may extend even to some of those who voted for the winner.
Internationally, that uncertainty has been fueled by the statements of a man who, as both candidate and president-elect, has proved to be an equal opportunities abuser.
He has angered China, which he clearly regards as a rival, rather than a partner, by accusing it of destroying US jobs, and he has been cosying up to Taiwan.
Beijing protested in advance to the Trump transition team following reports that a Taiwan delegation would attend the inauguration.
At the same time, Trump has alienated some of the closest friends and allies of the US – Germany, NATO, the European Union and next-door neighbor Mexico – by sniping at the fundamentals of the Western alliance.
Trump said NATO was "obsolete".
He accused Chancellor Angela Merkel, a stalwart of that alliance, of having committed a "catastrophic mistake" by opening Germany's doors to refugees from the Middle East. Merkel responded with admirable diplomacy by promising that "we will cooperate with him on all levels, of course".
Only Russian President Vladimir Putin has so far been spared the sharp edge of Trump's tongue.
Worries abroad are matched by a divisive atmosphere at home that has extended to the inauguration itself. A galaxy of invited entertainment stars declined to perform on the big day and some high-profile politicians announced they would boycott the event.
Members from Bikers for Trump have volunteered to patrol the event after denouncing in advance any protesters as "being paid and provided [sic] untruthful propaganda".
"People are pouring into Washington in record numbers," Trump announced on Twitter. "Bikers for Trump are on their way. It will be a great Thursday, Friday and Saturday!"
It is not the first inauspicious start to a presidential term. George W. Bush took office in 2001 after a contested recount that was tied up in the Supreme Court for a month.
When Richard Nixon was sworn in for a second time in 1973, he was already under the shadow of the Watergate scandal that would unseat him the following year. It ended a presidency in which he made a historic breakthrough in relations with China.
Even John F. Kennedy, a highly popular president when he was assassinated in 1963, had taken office two years earlier amid unproven allegations that the Mafia had helped him to the White House. Many US citizens still believe, similarly without proof, that it was the Mafia who killed him.
Those US citizens alarmed by the prospects that their country will start to look inwards once Trump is in office have already warned that he could be a second Herbert Hoover. The first year of Hoover's term saw the 1929 Wall Street crash.
Hoover initially put his faith in infrastructure spending to rebuild the broken US economy and then reluctantly endorsed tough protectionist measures that only made the Depression worse. Sound familiar?
"Hoover's economic strategy didn't turn out so well, either for the nation or for the GOP (Republican Party)," according to a recent article in the National Review titled Does Trump aspire to be a 21st-century Hoover?
The writer is a senior media consultant to China Daily. To contact the reporter: harvey.morris@gmail.com