China, US have 'common cause': Trump advisor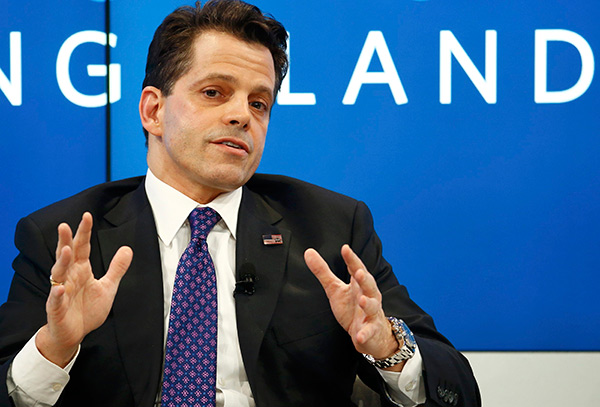 Anthony Scaramucci, assistant to US President-elect Donald Trump and Director of Public Liaison attends the World Economic Forum (WEF) annual meeting in Davos, Switzerland Jan 17, 2017.[Photo/IC]
DAVOS - A top aide to US President-elect Donald Trump on Tuesday highlighted the shared interests between China and the United States during a public event at the World Economic Forum (WEF) in the Swiss ski resort of Davos.
"The Chinese and the Americans have a common cause," Anthony Scaramucci, Trump's assistant and director of public liaison, told WEF moderator Philipp Rosler. "I think we need to have a very strong bilateral relationship."
Interviewed on the same day when President Xi Jinping gave a historic speech on the future of globalization, Scaramucci said: "I respect China, I certainly respect the president of China, and we want to have a phenomenal relationship with the Chinese."
Xi on Tuesday called for joint efforts to chart the course of economic globalization and forge new models of global growth, cooperation, governance and development.
Trump comes to power at a time when Washington and other world capitals are struggling with an ever rising tide of nationalism, populism, trade protectionism and the urge to backtrack on globalization.