Balance development, globalization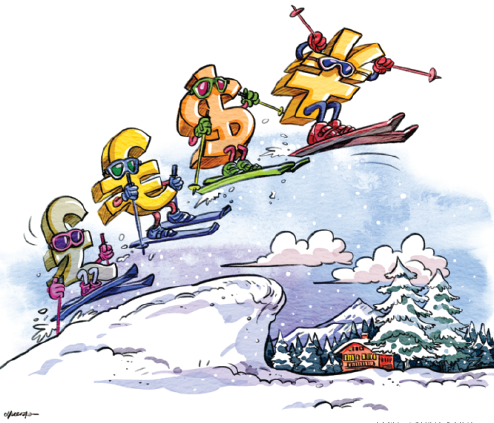 LI MIN/CHINA DAILY
By curious coincidence the World Economic Forum, which upholds the international benefits of globalization, is taking place at the same time as the presidential inauguration of Donald Trump, who promotes the domestic benefits of anti-globalization.
Today, it is President Xi Jinping, who wears the mantle of globalization leadership. Addressing the United Nations in 2015, Xi reaffirmed China's commitment to being a reliable partner in bringing about a more peaceful and progressive world through globalization in all forms, stressing common development through economic openness and shared prosperity.
This week, in an appearance of historic significance, President Xi will be China's first head of state to attend the World Economic Forum. Jiang Jianguo, minister of China's State Council Information Office, stated that Xi's mission in Davos is to promote development, cooperation and economic globalization in order to construct "a human community with a shared destiny".
"With the rise of populism, protectionism, and nativism, the world has come to a historic crossroad where one road leads to war, poverty, confrontation and domination while the other road leads to peace, development, cooperation and win-win solutions," Jiang said.
Leadership roles, remarkably, have reversed. For decades, the US was the great promoter of globalism while China was still closed to the outside world. China began changing-opening up-in the late 1970s, and in recent years, especially after the financial crisis of 2008/09, the US and parts of Europe have experienced such increasingly skewed wealth concentrations that many middle-class working families feel left behind by globalization and want to turn their backs on it.
But while protectionism in the form of tariffs or other disincentives to manufacture abroad can seem to provide or protect domestic jobs (usually mid-level factory jobs), it is at best a short-term fix. Because prices for protected goods must inevitably rise, protectionism is actually like a "tax" that all citizens pay in proportion to their purchases of protected goods. Moreover, the "tax" is regressive in that it skews to those who have lower incomes (whose purchases of protected goods constitute a higher proportion of their disposable incomes). Thus, the many subsidize the few.
On its surface, this tradeoff can seem a rational choice for national policy. There is nothing intrinsically wrong with the many subsidizing the few. The problem is that, over time, in an interconnected world, protectionism sub-optimizes economic growth and undermines a country's relative capacity to build national wealth.
Globalization certainly facilitates developing countries whose workers are willing to work for low wages. That's one reason why China has been the biggest beneficiary of globalization. While China has now become less dependent on global trade-as China's economy has grown, workers' wages have risen and domestic markets have expanded-China still champions globalization for its own continuing development. Ideally, this benefits both the developing world and the whole world.
There are, however, serious challenges. Taking the globe as a whole, globalization optimizes economic growth and development. Yet, because humanity is organized as fiercely independent and highly diverse nations-often divided by ethnicity or religion-the benefits of globalization cannot naturally be allocated evenly by country. While markets are rationally efficient, they also can be unintentionally cruel. National inequalities grow insidiously; festering, they foster instability, even violence. Eventually, no one is immune.
Moreover, multinational corporations and international investors have accreted a huge, disproportionate share of the riches of globalization, the impact of which has widened precariously the world wealth gap between rich and poor. The trajectory could lead to tragedy and it must be altered.
In assuming its share of globalization leadership, China must likewise assume its share of globalization responsibility.
The author is a public intellectual, political/economics commentator, and international corporate strategist.