The complex social problems facing US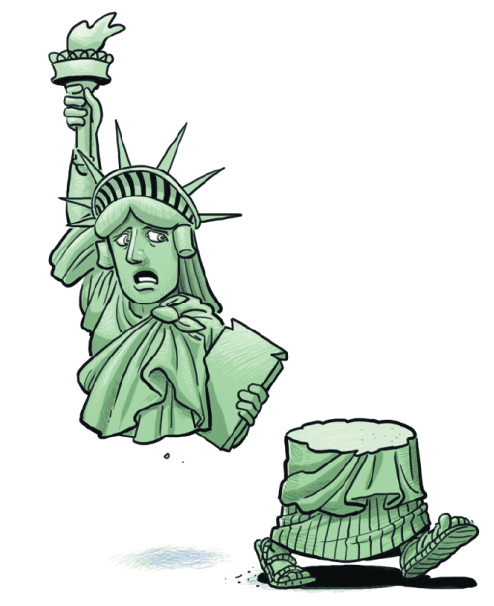 LUO JIE/CHINA DAILY
Donald Trump will become the 45th president of the United States on Jan 20, and the Republican Party is in majority in both the US Congress and government. Still, the US will continue to be roiled in social controversies.
The Republican caucus proposed to weaken the Office of Congressional Ethics program. But Trump opposed it, because he believes "draining the swamp" is more important. The Republican caucus has also vowed to abolish Obamacare (Patient Protection and Affordable Care Act) on the first day of the Senate, while Democrats have decided to take the marathon "vote-a-rama" approach, making the budget difficult to pass.
US intelligence agencies have said Russian President Vladimir Putin ordered Russian intelligence agencies to intervene in the 2016 US presidential election, by multiple means, to discredit Democratic Party candidate Hillary Clinton and "undermine faith in US election and help Trump". But Trump said hackers had no effect on the election result, although he later conceded that the Democratic National Convention might have been hacked.
Trump has said he will honor his election promise of building a wall on the US' border with Mexico to prevent the influx of illegal immigrants. And high-level Republican officials in the Congress have vowed to help Trump succeed.
Trump has also promised to bring manufacturing back to the US to create more jobs. But at the beginning of the year, Macy's announced the closure of 68 chain stores, leaving 10,000 workers jobless. And it plans to shut down all of its 250 stores nationwide.
It seems political polarization has intensified in the US. Many studies and polls have shown that in recent years Democrats and Republicans have become vehemently opposed to each other's policies even if they are good for the people. Worst, the two parties' supporters are more prone to go to extremes.
Political polarization could lead to "vetocracy"-according to American scholar Francis Fukuyama, "vetocracy" means veto, governance, and party struggle. It may cause political dysfunction in the US, preventing a number of bills benefiting the people from being adopted.
The other major problem the US faces is ethnic conflict. While racial prejudice is deeply rooted in American social life, many laws passed since the 1970s "strictly prohibit racial discrimination" and ensure blacks get equal treatment. But blacks continue to fall victims to police violence, and frequent ethnic conflicts and protests such as "Black Lives Matter" continue throughout the country. Some recent ethnic and social conflicts have been especially violent, with a few evoking strong reactions.
The culture war is another issue for Americans. For long, Americans have been debating whether prayers and preaching should be allowed, and whether evolution should be taught in public schools, whether the death penalty should be abolished, and whether euthanasia, stem cell treatment and genetically modified food should be allowed. These debates are likely to continue.
Immigration remains a major issue for the US, which has about 11 million illegal immigrants, most of them from Mexico and other Latin American countries. The large influx of illegal laborers not only reduced the traditional wage levels in the service industry, but also created some social problems, triggering dissatisfaction among ordinary Americans. And the rising fear of terrorist attacks has prompted some politicians, including Trump, to seek a ban on Muslims' entry into the US.
The consolidation of social classes is another issue haunting the US. Studies have shown that in the past 50 years, the ratio of upward social mobility of blacks has been far lower than that of whites, because long-term economic inequality caused by marginalization and lack of higher education is difficult to eliminate. Blacks are discriminated because most of them are still economically very weak, which in turn forces them into crimes.
And since the global financial crisis, the condition of white blue-collar workers has deteriorated. Although the US has gradually overcome the crisis and employment has improved, not all Americans have enjoyed the dividends.
The root causes of these problems are historical, religious and cultural differences. As a result, American democracy has become illiberal and less tolerant. Only time will tell whether these problems can be fundamentally resolved.
The author is a senior fellow at the Institute of American Studies, Chinese Academy of Social Sciences, and managing editor of the Chinese Journal of American Studies.