Local authorities have duty to protect cultural heritage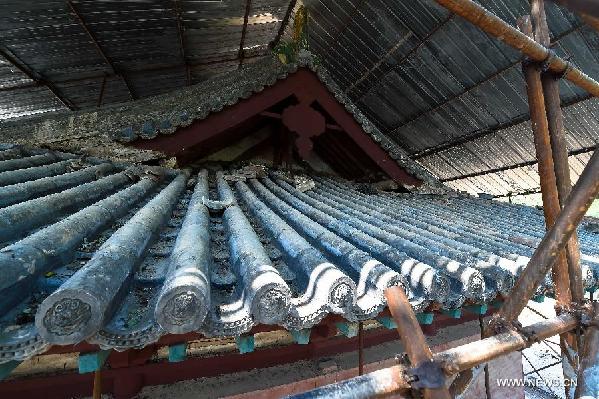 Photo taken on Aug 23, 2015 shows the roof of the Amitabha Palace of the Dayun Temple, Pingshun county of North China's Shanxi province. The Dayun Temple was originally built in the third year of Tianfu, Later Jin Dynasty (AD 938). It is one of the five remaining wooden structure buildings of the Five Dynasties period in China. More than two million RMB has been invested for the repair and restoration of the temple since this April. [Photo/Xinhua]
The compound surrounding Dayun Temple in Shangluo, Northwest China's Shaanxi province, has been encroached upon by the construction of a new development. This has caused damage to several relics including an ancient mulberry tree and four houses built during the Ming Dynasty (1368-1644). Beijing News commented on Saturday:
The construction work endangering a cultural and historical site on the provincial cultural heritage protection list stopped when the Shangluo museum published an open letter calling for official intervention. However, damage had already been done to the temple, which has a history of more than 600 years: An old tree and a decorated archway were relocated and four houses torn down. There are also cracks in the walls and gates.
It is regrettable that despite years of struggle between the cultural heritage protection authorities and city planning officials, the "urban renovation project" went on undisturbed even though it infringed upon areas under protection. When it comes to construction work near valuable cultural heritage, the urban managers should be very careful to ensure no irreversible damage is done.
According to China's Law on Protection of Cultural Relics, the construction of permanent buildings within 50 meters of a protected building or site cannot proceed unless it has approval from the State Administration of Cultural Heritage. However, in the name of renovation, the property developer employed several tricks to bypass the 50-meter restriction and managed to do so "thanks to" the acquiescence of the local authorities.
The real estate developer's boldness lies in the fact that the Shangluo government supported the project as part of the city's renovation program. Such a lack of respect for the rule of law has dealt a serious blow to the government's image as well as the preservation of the Dayun Temple, and it highlights the need to crack down on all misbehaving officials.