News
Forgotten histories; the rediscovery of a Changsha county temple
By Richard Widdington and Dai Rongzhu
Updated: 2016-11-14
In the waning year of Wu Jingzhang's life he received a persistent visitor. Wu lived a sparse, simple life and was by no means a special man, but to his visitor, who arrived at the 93-year-old's humble dwelling armed with pen, paper and a dogmatic determination, he held the information key to unraveling a local Changsha mystery that had become a personal obsession. The problem was, the facts lay submerged in a mind whose clarity had blurred with age.
The visitor was Yu Xiaoping, the retired head of Changsha county culture center, and his infatuation was a legendary abandoned temple, Shixian, whose location had lapsed into obscurity. Prior to his death in 2015, Wu remained the last tenuous connection between local fable and human reality; the man claimed to have lived amid the Buddhist ruins for 18 years of his life.
To an onlooker, it might seem strange in an age of online maps and instant geographic orientation for a once renowned temple to disappear from record. However, despite the great number of devotees Shixian lured from across a wide circumference in the early Qing Dynasty (1644-1921), this pocket of Changsha county 15km southeast of Hunan's capital city remains a natural spectacle of thick forests and uncharted hills that clutches onto forgotten histories.
If this type of mysterious intrigue sounds reminiscent of Indiana Jones, then Yu played the protagonist and devoted time finding the temple that other retirees might have spent relaxing. In the mid-2000s he began collecting local historical documents and he eventually turned a section of his house into a bookshop in 2007.
This bookshop doubled as a local culture center, a place where locals could acquire reading materials and attend talks on Changsha county history, including ones discussing the mystery of Shixian.
Unfortunately, just as with the pencil sketches Yu had drawn out of Wu's memory, details of the temple remained an imprecise hodgepodge of uncertainties. Some tales connected to the place could be dismissed as fables fit for children's bedtime stories, such as it having been built for Zhou, a mystic local monk, at the bequest of a local governor.
However, the number of elderly locals who testified to having visited the site somewhere in the Beishan area in their youth helped to keep Yu's mission alive.
"During my childhood we used to make outings to the temple during springtime. It's a pity the place has been abandoned for so long," one local recounted.
Local lore indicated that the Chens, a rich local family, had patronized the Shixian temple. In time it had become a site of sacred retreat for Changsha's affluent merchants and government officials who travelled out from the city in the hope of improving their fortune.
"People who lived in urban Changsha would travel all the way to this temple to burn incense for good luck and health," explained Yu.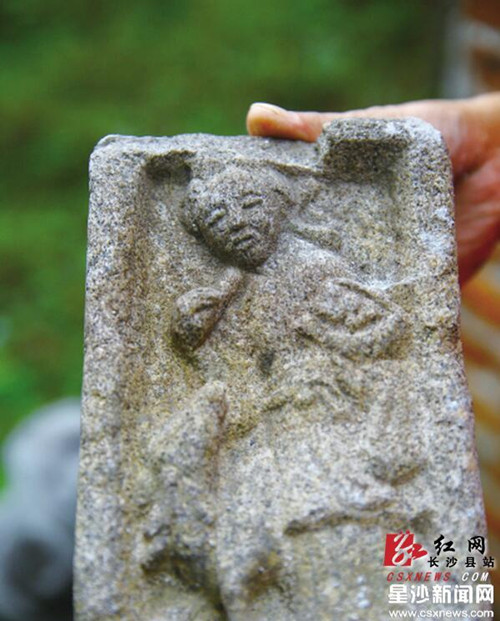 A brick from the relics of the theater house portrays an opera performer.[Photo/csxnews.com]
It was also said that an opera theatre, renowned for the acoustic excellence afforded by a ring of protective hills, had stood adjacent to the temple. But where exactly these hills were no one could remember.
In recent years, the local government has sought to revive the region's long tradition in porcelain making and boost local industry with the cultural influence of ancient Tongguan kilns, which have a history of 1,200 years.
Contact Us
Tel: +86(0731)-8401-8486
Add: No.19, Kaiyuan Rd, Xingsha, Changsha county