Who will pay for Abe's "dream of militarism"?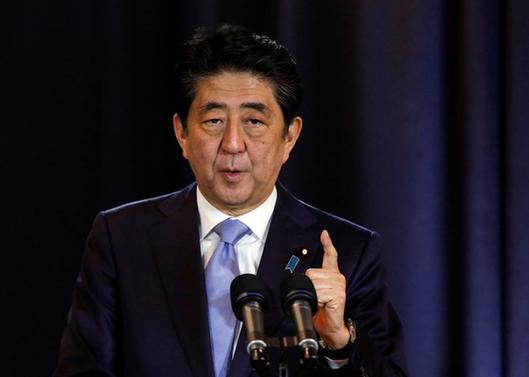 Japanese Prime Minister Shinzo Abe gestures during a press conference in Buenos Aires, Argentina, November 21, 2016. [Agencies]
The administration of Japanese Prime Minister Shinzo Abe has unveiled plans to reinforce the nation's missile defense system and expand its defense budget for the next fiscal year.
This, observers maintain, is part of a continuation toward Abe realizing his ultimate "dream of militarism," which will, if unchecked, escalate tensions and undermine peace and stability in the region.
Japan's Defense Ministry has started deliberations on introducing a Terminal High Altitude Area Defense (THAAD) missile defense system from the United States, with a commission led by State Minister of Defense Kenji Wakamiya to be set up to make preparations before next summer.
Meanwhile, the Abe administration has mulled expanding the defense budget for fiscal 2017 (April 1, 2017-March 31, 2018) to a record high of 5.1 trillion yen (about 44.94 billion U.S. dollars), marking the fifth consecutive year of increase and topping the 5 trillion yen mark for a second successive year.
However, in sharp contrast to the surge of spending on defense, the Japanese government does not hesitate to slash spending on desperately needed social welfare. According to local media, with an aging population in the country, medical and other social security spending needs to be increased by around 640 billion yen in fiscal 2017, yet, the Abe administration plans to cut essential expenditure to around 500 billion yen.
The actuality of the situation is in fact that Abe's administration has many pressing spending emergencies regarding the wellbeing of the people of Japan.
Since the nuclear disaster in Fukushima more than five years ago, areas surrounding the Fukushima Daiichi nuclear plant are still suffering from radioactive contamination. As of July 5 this year, there were still 89,000 refugees in Fukushima Prefecture, who have not been able to return to their homeland.
Abe, under the banner of revitalizing the local economy, however has never really kept Fukushima refugees in his mind. Though "Abenomics" has failed on multiple occasions and the sliding tendency of local economies is hard to reverse, the Abe administration has never wavered in its push to expand its military armament.
In fact, Abe's government has even gone so far as to steamroll controversial security legislation through parliament and into law, to boost the operational and geographical scope of Japan's forces oversea, albeit again the public's will, and is leading Japan along an ultra-rightist road toward becoming a "normalized" and remilitarized country.
Since taking office in 2012, Abe has been fulfilling his "dream of militarism" step by step. He has toured a bunch of countries often with a thinly veiled attempt to garner or buy support to contain China's peaceful rise.
During Abe's visits to Africa, Southeast Asia, Latin America as well as other regions and countries in recent years, China has been hyped up as an increasing threat by Abe.
In addition, Abe has been advancing his policy of what he calls "proactive contribution to peace," which Japanese military critics have said is actually a covert mantra meaning to solve disputes via the use of military power.
The railroading of the controversial new security bills through the parliament, which blatantly thwarted Japan, incited waves of criticism at home and abroad.
The shenanigan of Abe to play up the "China threat" and stir up tensions in the region is actually a covert plot to justify the new security bills, collaborate with the U.S.-led Pivot to Asia, and finally move closer to Abe's long-held goal of revising the country's pacifist constitution, including scrapping the war-renouncing Article 9 to allow Japan's Self-Defense Forces to act more like a conventional military.
Only by abolishing the key war-renouncing clause, which forbids Japan from using force to settle international disputes and restricts its land, air and naval forces to strictly defensive roles, could Abe realize his "dream of militarism."
The prospect of constitutional amendments has raised alarm in neighboring countries and among many Japanese who value their country's postwar pacifistic ideals.
To purchase the THAAD system, it may cost hundreds of billions of U.S. dollars. Even officials in the Japanese Defense Ministry admitted that it won't be easy to obtain budget approval as it would need public support. It is predictable that the Abe administration would likely continue its beggar-thy-neighbor policy and trouble-making behaviors to trick the Japanese public into following its rightist agenda.
From lifting the ban on collective self-defense right and forced passage of the controversial new security bills to advocation of getting rid of the postwar system, from plans to augment the defense budget to attempts to deploy the THAAD system, the Abe administration's revisionist view of history, disregards public opinion, runs counter to the trend of peace and development and win-win regional cooperation, and is unlikely to win the trust from the Japanese people and the international community.
If Japan sincerely wants to contribute to world peace, instead of going farther along the road of militarism and continuing to potentially allow innocent lives to bear heavy cost, the nation should match its words with deeds, stop fueling tensions and inciting disputes, and do more to promote actionable political and security trust between countries and safeguard regional peace and stability.