China, a harmonious blend of glorious history, virtues and contradictions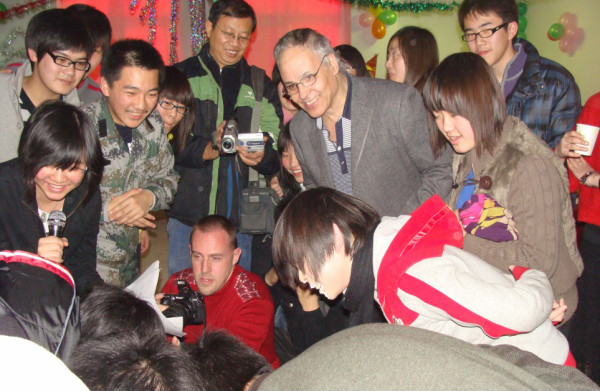 Sava and his students.[Photo provided to chinadaily.com.cn]
After living in China for 14 years, I am often asked to describe it or, more precisely, give my impression of it. Of course, I am always delighted to oblige.
Most of the time, I describe China as a harmonious blend of glorious history, virtues and contradictions. Consequently, people request elaboration on my description, which prompted me to write this article in order to satisfy their curiosity and to pay homage to my beloved China and its distinguished people.
It is too obvious that China possesses an undeniably glorious history. It is one of the most admired ancient civilizations. It envelopes one of the seven wonders of the world, the Great Wall of China.
It is a well-known fact that China's historical sights that are spread all over the country, attract millions of tourists every year. People from all age groups worldwide flood to China to be captivated by its mesmerizing scenery and to be awed by the glory of its history.
In Beijing, one can get a glimpse of the miraculous Chinese past by paying a visit to the Forbidden City and the Great Wall.
The Chinese family values and wisdom are used as an exemplary model to follow by people worldwide. The Chinese people are famous for their generosity of spirit and hospitality. Their traditions of taking care of their elder parents are respected and admired by people everywhere.
The well known ancient virtues of China - benevolence, righteousness, propriety, wisdom and fidelity - are used to govern and evaluate the proper conduct of people worldwide.
The benevolence virtue gears Chinese to offer help whenever the opportunity permits. I am always amazed by the willingness of the Chinese people to help those in need.
The righteousness virtue prompts Chinese to acquire resilience to preserve their dignity in accomplishing their tasks and fulfilling their responsibilities.
The propriety virtue dictates that Chinese people be loyal to their families and patriotic toward their beloved China.
As for the wisdom virtue, it guides them to acquire the essential and innate knowledge to differentiate between right and wrong and behave according to the moral norm.
Regarding the fidelity virtue, it instills within Chinese the admirable trait of being honest and ensures that their actions must coincide with their words.
It is logical to assume that Chinese virtues summarize the teaching and philosophy of decency and morality of the human race.
When it comes to the contradictions that may be noticed by foreigners who have the chance to live among Chinese, one must be cautious to avoid offending their Chinese hosts. To clarify my point of view, contradictions exist in every country on our planet.
By the way, contradictions may create an environment in which boredom and lethargy could be avoided.
One of the most noticeable contradictions that I observed in my fellow Chinese is their tendency to be humble despite their miraculous rise to prominence in the last decade and contrary to their apparent intelligence.
One may notice that Americans display an adamant pride in being citizens of one of the most powerful nations on earth while the Chinese, despite being proud of their heritage, tend to minimize the significance of their achievements and accomplishments. Their humility puts those bragging individuals to shame.
Another contradiction is their fascination with American lifestyles that leads Chinese youngsters to blindly imitate their American counterparts without taking the time to differentiate between the proper and improper trends. The uniqueness of the Chinese lifestyle should be preserved for the future Chinese generations.
Of course, there are other contradictions but I shall cease from mentioning them here due to their insignificance.
Regardless, China had achieved success in creating a harmonious society that is rich with virtues, possesses a glorious history and came to terms with its contradictions.
The above views are mine and should not be taken as a criticism of my beloved China and its distinguished people.