China, Japan and the ROK need to talk to restore trust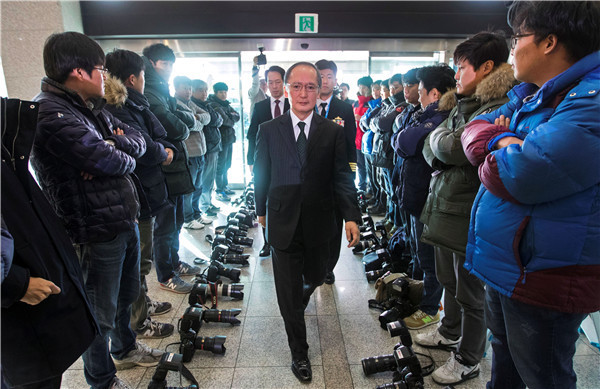 Republic of Korea media protest the decision to bar photographs, as Japanese ambassador Yasumasa Nagamine enters to attend the intelligence deal signing ceremony in Seoul on Wednesday. [Photo/Agencies]
Republic of Korea President Park Geun-hye has indicated she intends to attend the planned China-Japan-ROK leaders meeting in Tokyo next month.
Yet the uncertainty of her position is growing each passing day because of domestic political turmoil.
A lot could happen and change in the three weeks or so before the anticipated meeting, not just in the ROK.
The latest revelation that Tokyo is likely to follow Seoul's example and deploy the United States' Terminal High Altitude Area Defense anti-missile system on its soil has added a new variable to the already delicate situation.
Like Seoul's, Tokyo's official excuse for deploying THAAD is the threat from the Democratic People's Republic of Korea. Yet it does not take anything as sophisticated as the THAAD to deal with any threat from the DPRK.
And if the ROK does deploy THAAD, considering the latest Japan-ROK military intelligence sharing agreement, it makes no economic or security sense to install the same system in nearby Japan, if the imagined threat is just the DPRK.
However, on a more optimistic note, Japanese Prime Minister Shinzo Abe, who has pledged his country will "strive to make the meeting happen", said on Monday both Japan and China are positive about talking to each other.
And three weeks ago, the Chinese Foreign Ministry called for concerted efforts to "create the necessary atmosphere and conditions" for the anticipated leaders' meeting, at which the three leaders are reportedly to discuss accelerating their negotiations on a trilateral free trade agreement and their anti-terror cooperation.
But even though Chinese and Japanese defense officials held security talks in Beijing on Monday, in order to ease tensions in the East China Sea, it would not be a surprise if Japan's intention to emulate the ROK and deploy the US' anti-missile system means the planned leaders' meeting does not go as smoothly as planned.
Perhaps, therefore, it would be more productive to take the meeting as an opportunity to tackle the security conundrum that exists between the three.
The three countries badly need to communicate and relieve one another of unnecessary worries and suspicions. Which is why, despite the shadow cast by THAAD, a meeting of leaders of the three countries should happen, even if this one is postponed while the ROK resolves its leadership crisis.