Greed, laxity and poverty combine to exploit children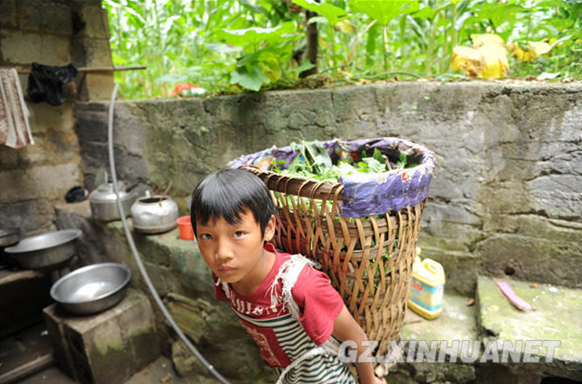 Ying Chunxi, who lives with his 80-year-old grandmother in the Wumeng area of Guizhou, has to do the cooking himself and go up the mountain to collect plants every day. [Photo provided to China daily]
A video clip that went viral on the internet recently has revealed the widespread use of child labor in Changshu, East China's Jiangsu province, and the shocking conditions they work in.
In this city known for its garment industry-it boasts more than 1,000 factories and billions of yuan in annual output-children aged below 16 are toiling at sewing machines at least 15 hours a day, 28 days a month, earning a meager monthly income of a little more than 1,000 yuan ($144), according to the subsequent media reports.
With their ID cards taken away by the factory owners so they cannot flee, the children are basically prisoners. Sometimes the children are physically abused by their bosses to make them "work harder".
Our sympathy goes out to these children, who should be attending school and being cared for by their families. The failure to protect them from being abused in this way is a stain on our collective conscience.
Those who exploit them, especially those who hoodwink the children into being slave labor, should face the full force of the law without leniency.
Those officials in charge of labor, market supervision and law enforcement are also to blame. Letting such an ugly practice thrive under their very noses shows they have not performed their duties as they should. They should be duly punished for any wrongdoing or dereliction of duty.
There is no official figure for the number of child laborers in China, but there have been frequent reports of child labor cases in the country. A Xinhua report on Tuesday said that a total of 107 child labor cases, involving 211 children, have been handled in Changshu since 2012.
But while child labor is the result of unscrupulous business practices and lax law enforcement it is also a symptom of a greater disease-poverty. Most of the children toiling in the sweatshops in Changshu are from Yunnan, a southwestern province where the annual per capita income last year was around only 8,000 yuan in rural areas.
The wealth gap between urban and rural areas is still alarming in China. If that situation does not improve, it will be difficult to eradicate child labor, despite the law banning it, because it will continue to be attractive for children from poverty-stricken areas to work in factories in the cities whether through choice or coercion.
Children in this country deserve a better future.