Supervision of live webcasts needed to curb charity cheats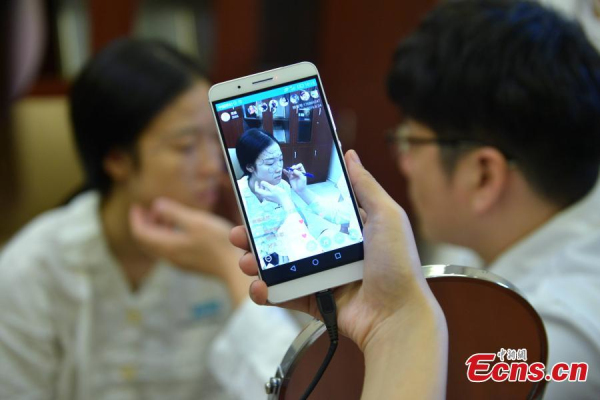 A girl from Chengdu of Southwest China's Sichuan province, talks with a doctor about her cosmetic surgery at a local hospital, Aug 24, 2016. Her friend live broadcasts her cosmetic surgery on the Internet using a cell phone at the hospital. [Photo/China News Service]
Kuaishou,a live broadcast app, recently announced it was permanently deleting 21 registered accounts, as the owners were involved in a charity fraud in which they broadcast videos of themselves giving money to poor people, but after the filming took the money back. Their fraudulent deeds deserve legal punishments, not only the deletion of their Kuaishou accounts, says Southern Metropolis Daily:
Those making money in this way first make themselves known for charitable donations to attract followers, then they solicit commercial advertisements or donations from their followers.
Currently, the account owners only get their accounts deleted, but they should be investigated to see if they have broken the law. The money made in this way is, doubtlessly, illegal, because the Charity Law unambiguously prohibits any cheating in the name of charity.
Charity fraud arouses the mistrust not only of donors, but also of the recipients. To quote one villager who was cheated in this way: "We do not dare to trust anybody from the outside anymore."
The live broadcast platforms have also been harmed by the cheats. Increasingly more people can make live broadcasts on their smartphones, and the industry has grown quickly. However, its success has also attracted fraudsters, who are damaging the whole industry.
That's why Kuaishou has permanently deleted the accounts of these users. But the live broadcast platforms and the judiciary should work together to strengthen regulation and supervision so as to prevent the live broadcasts being a means for fraud.
The provisions of the Charity Law state that charitable acts should respect the personal dignity of the beneficiaries. However, those who gave the money to the villagers under false pretenses did not respect their dignity. Reportedly the video team went as far as putting dirt on the faces of some of the poor children to make them look more pitiful, in order to push the audience to send more money.
Technology has no doubt improved people's lives in many ways, but as the webcasts show it can also be used in ways that undermine the values of society. The biggest sin in this case is the destruction of the social environment for charitable giving. Allowing such a sin to spread will damage the trust of people who want to offer help to those in need.
To curb such online frauds and other illegal content, a law regulating the fast-growing live-streaming industry in China is due to come into effect on Dec 1, the Chinese Cyberspace Administration announced on its website on Friday.