Several media outlets followed court officers to report live about a law enforcement campaign in the early morning of Aug 11 in Central China's Henan province.
From 5 a.m. to 8:30 a.m., two groups of law enforcement officers from Qinyang People's Court conducted a surprise hunt for 13 people who, for a long time, refused to act in accordance to a court ruling.
One person, surnamed Hou, was taken into custody for a serious impediment to the court practice.
The campaign was broadcast live via news portals and social media, including china.com.cn, xinhuanet.com, and people.com.cn, among other sites.
The campaign received a total of 80,000 clicks with thousands of posts and lively discussions.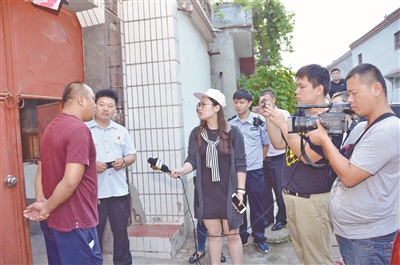 A TV journalist interviews the law enforcement officers. [Photo by Zhang Jianzhong and Yang Kai/People's Court Daily]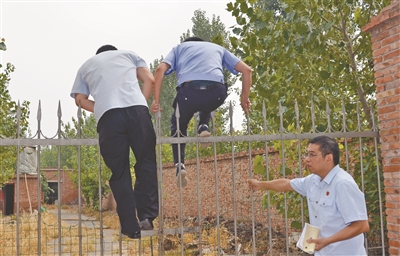 Law enforcement officers climb over the gate to search for a hidden man. [Photo by Zhang Jianzhong and Yang Kai/People's Court Daily]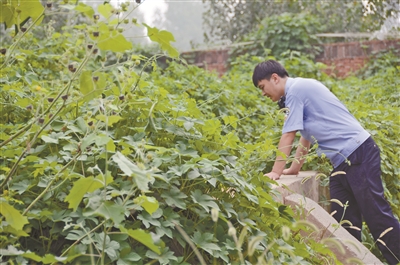 Law enforcement officers search for a hidden man in the weeds. [Photo by Zhang Jianzhong and Yang Kai/People's Court Daily]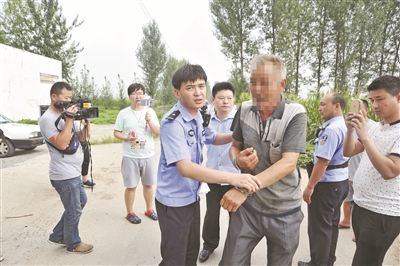 Mr. Hou is taken judicial custody for a serious impediment to court practices. [Photo by Zhang Jianzhong and Yang Kai/People's Court Daily]