Nanjing International Art Festival adds to Nanjing's status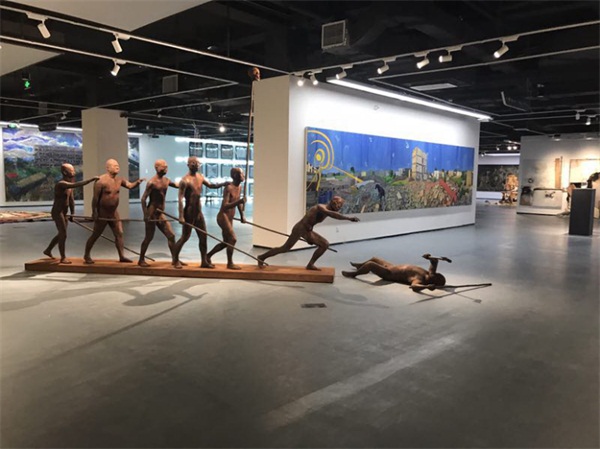 This sculpture is on display at the Nanjing International Art Festival in Nanjing, capital of East China's Jiangsu province. [Photo provided to Chinadaily.com.cn]
Nanjing has a storied history: it was the capital of six dynasties and in the 1930s was the site of one of the worst civilian massacres during the War of Resistance Against Japanese Aggression. It is now on the cusp of becoming a World City, full of all sorts of creativity and some of the most breathtaking new architecture to be found on the planet.
It is fitting that the capital of Jiangsu province is home to the Nanjing International Art Festival ("NIAF") now in its third edition, running through Feb 12 at the newly opened, 20,000 square meter Bai Jia Lake Art Museum. Like the city bearing its name, NIAF's international reputation is growing and progressing apace. Participation skyrocketed from 21 countries and regions in the first edition, to 43 in the second to 52 in the third. Even more telling is the upward attendee growth curve: from 200,000 visitors in seven days in the first edition; 210,000 visitors in 10 days in the second edition and an estimated 500,000 visitors over 100 days in the third edition.
The third edition is based on the overall theme: "HISTORICODE: Scarcity and Supply". Through different art forms from different countries and regions, NIAF embodies suggestions and performances that respond to the challenges of globalization, while at the same time trying to make an impact on current academic issues faced by the field of contemporary art. According to Curator Lu Peng,"the theme of this exhibition is not an attempt to promote a single direction in art, but rather to bring up questions regarding history and reality that relate to art, while focusing on the period from the 1990s to the present".
Nearly 16,000 works were nominated for inclusion in NIAF, an astounding number reflecting the fast-rising reputation of this relative newcomer to the art world.
According to the renowned philosopher Laozi, "After one comes two, after two comes three, and after three come all things." So starting in October 2018, the Festival will morph into the Nanjing International Art Biennale, joining its more mature siblings like the Venice Biennale, whose 57th edition occurs next year.
In China, as elsewhere, art museums don't spring forth from the ground fully formed. Rather, they tend to be conceived by visionaries with dreams—and the wherewithal to turn their dreams into reality. Such a visionary is NIAF Chairman Yan Lugen, who also built the Bai Jia Lake Art Museum. But he's not stopping there. Hoping to be China's global art ambassador, he is currently building a network of art museums in other World Cities, such as Beijing, New York, London and Paris.
NIAF is well worth a visit. Maybe you will even encounter Yan. He's the guy wearing a bowtie!